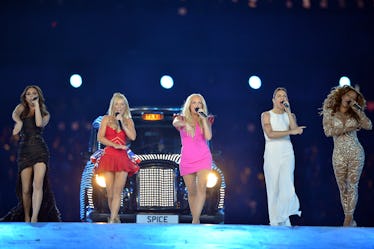 The Spice Girls Are Doing A Reunion Tour & '90s Girls Are Losing It
Jeff J Mitchell/Getty Images Sport/Getty Images
PEOPLE OF THE WORLD, are you ready to spice up your life? You better be ready, because the Spice Girls are coming together for a reunion tour and I CANNOT BREATHE RIGHT NOW. A source from TMZ reports that the five women will be taking the stage in England and will make their way to the United States, and I am literally shaking with happiness. You heard me correctly: Mel B, Victoria Beckham, Emma Bunton, Melanie C, and Geri Halliwell are going to be reuniting and touring, and how can anyone do anything productive after hearing such incredible news? Growing up in the 90's, it was basically impossible to not have adored the Spice Girls. In fact, they were probably not only your favorite band, but you absolutely had one Spice Girl who you just totally identified with (Ginger Spice, what's good?). So, yeah, this news has me downright ecstatic. And I'm not alone, because these tweets about a Spice Girls reunion tour prove that the universe is just as amped as I am.
In February of 2018, Victoria Beckham (or, as many '90s girls know her as, Posh Spice) took to Instagram and showed an updated photo of the Spice Girls reunited and looking like the glowing goddesses we know they are. Beckham's caption was so on point:
Love my girls!!! So many kisses!!! X Exciting x #friendshipneverends#girlpower
The Spice Girls were so right. Friendship truly never ends.
But this photo made people curious. Why were they all back together? Did they just all happen to conveniently be in the right place at the right time? Or were they planning something major?
Well, we sort of got an answer on Feb. 2, when a statement was released that confirmed that the Spice Girls were in a place where "the time now feels right to explore some incredible new opportunities together":
New opportunities? Even just the thought of the Spice Girls exploring the possibility of a reunion was enough to make fans freak the eff out.
So when TMZ sources learned that the meeting was in fact to talk about a Spice Girls reunion tour this coming summer, it was as if the Twitterverse exploded:
Doesn't this news just want to make you slam your body down and wind it all around?
Or perhaps it makes you want to slam it to the left?
Or maybe even shake it to the right?
Or maybe — just maybe — this news makes you really want to zigazig ah:
If you're not even remotely excited about this news, you need to go find your stack of Spice Girls CDs, brush off your old Steve Madden platforms, and listen to every song on repeat. Believe me, you'll thank me later for this advice.
And, while TMZ sources say that the girls don't plan on creating new music, that doesn't really matter for a true Spice Girls fan. We're more than happy to jam out to "Wannabe" and "2 Become 1" — no new stuff needed.
I don't know what I'm more pumped for: the fact that the Spice Girls will be reuniting, or that we'll get to see more incredible fashion from the five women who were the epitome of #girlpower:
All of it. I'm excited for all of it.
So, if you're wondering where you can find me, I'll be heading back to my parents house and searching my old bedroom closet for my Spice Girls Barbie dolls so I can properly celebrate. And if I were you, I'd highly consider doing the same (don't lie, I know you have those Barbies, too).
Yup. Posh, Sporty, Baby, Scary, and Ginger are spicing up my life, indeed.