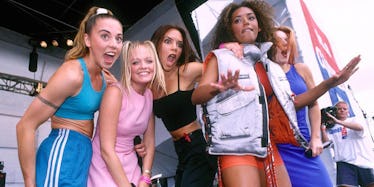 The 6 Best Spice Girls Moments To Celebrate The "Wannabe" 21st Anniversary
REX/Shutterstock
"Wannabe" by the Spice Girls turns 21 years old on July 8, and I've never felt older. I mean, this song can legally drink alcohol now.
"Wannabe" was the jam of my childhood, adolescence, and (if I'm being honest) present-day adulthood. Where would any of us be without the Spice Girls?
I always wanted to be Posh Spice because I thought she was so glam. Looking back, she doesn't seem to do too much singing or dancing. It's really just a lot of walking around and posing. I still really relate to her apathy, though.
The anniversary is so epic that Nicole Kidman, James Franco, Millie Bobby Brown, and a bunch of other celebs got together with W Magazine to celebrate this momentous occasion.
Here are a few of my favorite moments from the Spice Girls that I think you'll want to relive, too.
1. When Scary Spice Gave Us Major Hair Envy
I'll never forget Mel B's iconic look in this music video. Her curls are everything. Also, I'm going to the store immediately to buy more glitter eyeshadow.
2. When They All Tried Different Spice Personas
This scene from Spice World freaking kills me.
In the middle of a photo shoot, the Spice Girls decide they want to shake things up. Then, they went into full montage mode and dressed up like each other.
"My mommy is my best friend, shhhh," is perhaps the greatest line in any movie, ever.
3. When They Gave Us Prime Fashion Inspiration
Leave it to the Spice Girls to give us the best '90s fashion moments of all time.
There's a lot of platform-shoe action happening in this picture, and I want Baby Spice's shoes the most. And although she's British, Ginger still rocks those stars and stripes like it's the Fourth of July.
TBH, I think if the Spice Girls just wore underwear around, they would've made it fashionable. You do you, ladies.
4. When They Blew Our Minds With A Reunion Tour
Just when you thought you were living a normal day in 2007, the Spice Girls hit you with a reunion tour announcement. It sold out in 38 seconds.
5. When They Randomly Showed Up On All That
Kel Mitchell played a student named Robert who brought the Spice Girls as his "Show 'n Tell" project. Geri explains the Second Law of Thermodynamics, and frankly, it makes me jealous the Spice Girls weren't my teachers growing up.
6. When The Spice Girls Were Basically The Pinnacle Of Girl Power
The girls literally always preached about girl power and its importance.
In the interview above, they said, "[Girl power is] about spreading a positive vibe, kicking it for the girls… It's not about picking up guys. We don't need men to control our life. We control our lives anyway."
"Wannabe" may be 21, but the Spice Girls are still as relevant today as they ever were.