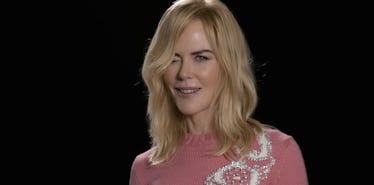 Milo Ventimiglia, Nicole Kidman, & More Singing Spice Girls Is The Best Thing You'll See Today
W Magazine
July 8. Just a normal day in history, right? Wrong. July 8 is the day the Lord hath made, for 21 years ago on that date, a not-so-well-known girl group called The Spice Girls invented pop music when they released their debut single, "Wannabe."
Today, "Wannabe" is a universally spoken language -- an anthem that unites the ages, genders, and social classes; and, I'm pretty positive, the beginning of what historians now refer to as The Golden Age (I did not fact check this, I'm just assuming).
Recently, a bunch of our fave celebs got together for one of W magazine's lyrical improv videos. This time it was to celebrate the song that rivals Shakespeare's best, most lyrically sound sonnets and, WOW, is it everything you didn't know you needed today.
For the song's upcoming 21st birthday, Nicole Kidman, Millie Bobby Brown, Milo Ventimiglia, Alexander Skarsgård, Brit Marling, James Franco, Jodie Comer, Johnny Flynn, Sanaa Lathan, Claire Foy, Rupert Friend, and Riz Ahmed each gave us their best, most unique version of the triple platinum chart topper.
Some were upbeat, some were dramatic, and some were downright sexual, but they were all hilarious.
Of course, like anyone who's ever heard of The Spice Girls, the celebs have their favorites. In a separate video, our faves revealed their faves. Obviously, just like you and your friends in 1996 (and definitely still today), everyone had different opinions.
Millie Bobby Brown told W,
I like Sporty Spice and I usually was Sporty Spice, but I do have a soft, soft spot for Posh!
While Riz Ahmed said,
Well I think Mel B was for me, yeah. She did rock it man. She still does.
And Nicole Kidman revealed,
Ah, it would have to be Posh, right? She's got an amazing life. I wore one of her dresses recently and I was, like, oh, this is heaven. It had the whole back out of it.
While we may always disagree on who the best Spice Girl is, or even what their best song is, we can all agree on one thing: It's been 21 years and, still, nobody knows WTF a "zigazig ah" is...