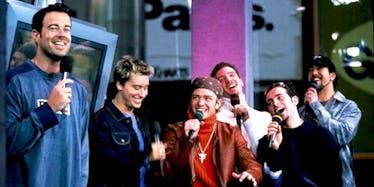 MTV Is Officially Bringing Back 'TRL' This Year, So Get Ready To Relive The '00s
MTV
Think back to where you were during a random weekday in the early 2000s, right after you got out of school. If you were anything like me or the thousands of other teenagers during that era, chances are you were eagerly anticipating what was going to be the number one music video of the day and getting the latest scoop on your favorite pop stars. Well, now you can fully relive all the excitement you felt back in the day, because MTV is bringing back TRL.
That's right — in just a couple of months, we'll all be able to turn on MTV and check out the best music videos of the day again for the first time in a decade. MTV's president Chris McCarthy revealed the TRL reboot news to the New York Times over the weekend, confirming the countdown and interview series will stick to its classic, hour-long, daily format when it returns this October.
While it sounds like most of the rebooted TRL will be just like its classic predecessor, one difference comes in the new hosts. McCarthy confirmed none of the iconic VJs who rose to stardom as hosts of the show, such as Carson Daly, will be returning for the new series. Instead, MTV will bank on creating new stars, which include rapper DC Young Fly and radio host Erik Zachary.
Total Request Live was canceled in 2008, after spending a decade as one of the most influential outlets for pop stars throughout the late '90s and early '00s. The countdown show is credited with helping boost the careers of boy bands like *NSYNC and Backstreet Boys, along with pop stars like Britney Spears and Christina Aguilera.
TRL actually did have a one-day reboot special in 2014 in order for Ariana Grande to release her song "Break Free," which was called Total Ariana Live. Aside from that, this will be the first time MTV has aired TRL in almost ten years. It's a return to form for the network, which has famously strayed away from the "M" in its moniker for quite some time now.