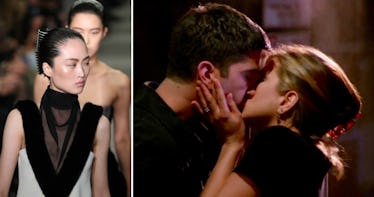 '90s Banana Clips Are Fashion Week's Hottest Accessory & Rachel Green Must Be Screaming
Getty/Netflix
It may be time to say goodbye to the elaborate hairstyles of Fashion Week's past. A recent show in New York took a minimal, and very relatable, approach to the models' beauty looks. While the women sported sleek, slicked-back hairstyles, Alexander Wang's banana clips were the real star.
Don't worry, you read that right: Wang's models wore platinum, silver-colored banana clips as they walked the runway. The theme of the show was '80s office-chic, minus the shoulder pads, and the presentation was fittingly held at 4 Times Square (the former digs of magazine giant Condé Nast). Wang forced all of the high-fashion editors from magazines such as Vogue, Glamour, and Vanity Fair to return to their old office building, and if that's something you've ever had to do, you know it can induce minor waves of PTSD.
The show's official themes were Executive Realness and Modern CEO, and if Alexander Wang thinks that the banana clip is office-appropriate, who am I to argue? Noteworthy though is that Wang used fancy looking silver clips, not those plastic tortoise shell clips I buy in bulk at the drugstore to wear while washing my face. Nonetheless, the move was a clear ode to the '80s and '90s, and because my brain works in Friends references, I'd say Wang did Rachel Green proud.
Call it a banana clip, claw clip, or whatever you'd like, but it's back. Wang worked with Redken to get the right looks for the clips. "The hair is a take on a power executive of the '80s. It's corporate and kind of smart in a way. This is Alex's take on the ironic banana clip of that era," Redken creative director Guido Palau told Harper's Bazaar. Palau used the Dyson Supersonic Hair Dryer (which I've also used and love) to dry the models' hair and give them a natural sheen. He then twisted the models' hair up along the head and used one or two of these now infamous clips to secure it, and used Redken Forceful 23 Hairspray ($19; ulta.com) for extra holding power. Palau described the final look as "very dynamic and tough," perfect for a modern SheEO.
Palau also commented on the clip itself,
"I love the way that something that's been around and has a funny connotation can come back. I love the way that something is reintroduced into fashion and we look at it again in a different way. That's been happening for a while now, things that were considered not cool for a bit of can be rejigged again."
I appreciate that the clip looks large enough to handle longer, thicker hair. You'll also notice the branding on the handle, because it's 2018 and if something isn't branded, does it really exist?
I have to assume (or at least hope) that Wang got his inspiration for using the clips from Friends. The '90s sitcom had Jennifer Anniston as her character Rachel Green rocking the hair clip throughout the series. In one of the more iconic moment from the show, when Ross and Rachel have their first kiss in season two, Rachel is wearing her clip!
The handy hair accessory was seen most in the early seasons, here Rachel wears it early on in season one.
Season four saw the banana clip style, too.
It's harder to see the actual clip here but Rachel is definitely wearing it, and this is season 9! Her signature hairstyle "The Rachel" got most of the limelight but she loved her clips just as much, and luckily for her, they're back!
Go Rachel, go rachel.
There's no confirmation yet on whether the clips will be available for people to purchase or not. My guess, though, is even if Wang wasn't originally planning on selling the silver hair accessories, based on their recent and viral internet fame, he will now. If you want to get a similar look right away, you can use some good old Scunci Covered Hinge No Slip Jaw Clips ($5, target.com), or get a strikingly similar style from Kitsch (Claw Clip Open Shape Large, $9; mykitsch.com) so you can be high fashion AF.