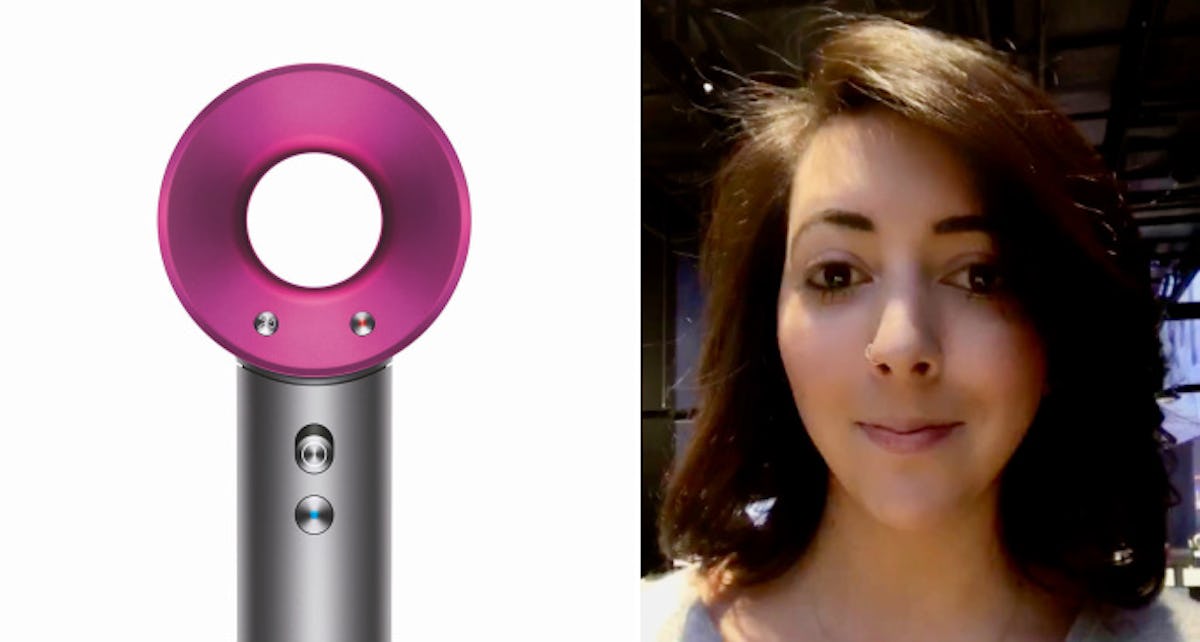 I Tried The $400 Dyson Blow Dryer & My Hair Didn't Need A Single Product
Dyson/Alison Turka
Hair dyers have come a long way since the clunky machines of the early 1900s that looked more like torture devices. And one of the newest, most innovative models comes from a pretty surprising source: Dyson, a vacuum cleaner dynasty that one day got bored of carpet and decided to tackle your face curtains. After the Dyson Supersonic Hair Dryer reviews starting blowing up, I knew I had to give this bastion of premium engineering a thorough test run.
I'll start out by telling you that I have thicker-than-average hair, shoutout to my Jewish roots (literally) for that. My hair isn't that long, but I've still got a ton of it, and even my thick hair isn't immune to cumulative heat damage. Basically, blow drying it generally usually results in a dull, untamable poof atop my head.
I'm lucky enough to live in New York City and was able to visit the Manhattan Dyson Demo Store for a complimentary blowout to learn about the Supersonic Hair Dryer. While I would normally scoff at racking up my credit card bill so much for a hair dryer (turns out, sleek engineering costs a pretty penny), I've been curious about this rather pricey product. Plus, I'm a brand loyalist (my Dyson cordless vacuum changed my life) so I decided to embark on some research.
What did I find out? Besides the sleek design, the Dyson Supersonic Hair Dryer ($400; dyson.com) has oodles of ingenious features that put other blow dryers to shame.
The Demo
Upon walking in the Dyson Demo Store, I was greeted by a larger-than-life model of the Supersonic's motor. The store itself was so sleek and futuristic that I felt like I was in an episode of Black Mirror, in a good way.
The back of the store was a mini hair salon where I was treated to my hair-dryer conversion therapy. The process began with a quick hair wash, as any good blow out does, and then the real magic started.
What makes it so special?
My phenomenal hairstylist, Alexa, educated me about all the cutting-edge technology and design features on the dryer. Other hair dryers can go up to 600 degrees Fahrenheit, but the Supersonic never goes above 212 degrees, protecting your hair from all that heat damage. The dryer's motor is the main attraction here — it regulates the air 20 times per second and produces 41 liters of air per second. The Dyson Supersonic works smarter, not harder. It doesn't get as hot as other blow dryers, but the motor pushes through so much air that you don't need the harmful, high heat. No heat damage means your hair will be naturally smooth and shiny. Oh and the motor is in the stem, not the head, which makes the dryer so much easier to handle than other top-heavy models.
Smooth, Shiny, & Sleek AF
That's my hair after the blow out with no product in it. Not a single product. It's never looked that shiny on its own, ever.
The Supersonic has four heat settings, three airflow settings, and a cool air option. It comes with three attachments: a smoothing nozzle to use first that gets the excess water out, a styling concentrator that focusses the airflow on the desired section, and a diffuser for curly hair that reduces frizz. The nozzles all attach to the dryer via a magnetic surface — the future is here.
Should You Buy It?
Dyson Supersonic Hair Dryer in Iron/Fuchsia, $400, Dyson
This is no cheap hair dryer, but it doesn't act like one, either. Overall, I'd say this newfangled contraption is worth the investment, especially if you blow dry your hair on the reg. If you live in New York City or San Francisco, you should book an appointment to try the Dyson Supersonic before you buy it. You'll snag a free blowout and discover the wonderment firsthand. If you can't get to the store, there's a 30 day money-back guarantee if you're not satisfied with your fancy dryer, but you probably will be.
Maybe start making your cold brew and avocado toasts at home for the next few months to save up, or ask someone who loves you for an extra luxe Valentine's day gift. Healthy hair without heat damage is priceless, after all.