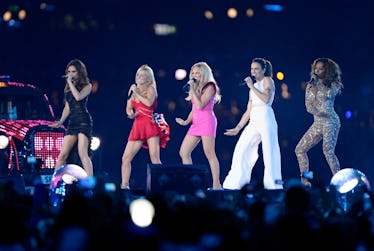 Here's What All Of The Spice Girls Are Up To Now & Wow, They're Thriving
Pascal Le Segretain/Getty Images Sport/Getty Images
In case you missed it, the Spice Girls are reportedly getting back together to go on tour, and it's a pretty big freaking deal. On Feb. 2, Posh Spice (aka Victoria Beckham) took to Instagram and posted a photo of the five Spice Girls reunited. While that was a gift in itself, it seems that the reason they were all together was because they were hashing out the details of the tour, which is said to take place in the U.K. and then work its way to the United States. At this point, every '90s girl is internally screaming, because seeing Posh, Baby, Scary, Ginger, and Sporty back together is a dream come true. Many people know these five badass ladies from long ago, but what are the Spice Girls up to now? If you thought they've just been sitting and looking pretty, collecting royalties from the Spice Girls franchise for the last few decades, think again. Each of these ladies are thriving in their own way, and are giving us reason to love them even more than we already do.
So why don't you dust off your platform shoes and bell-bottoms, practice your best peace sign, and take a look below to see what each of the Spice Girls are currently up to now.
Victoria Adams, aka Posh Spice
Now Victoria Beckham, Posh Spice met and married David Beckham, a now-retired professional football (read: soccer) player back in 1999. The couple went on to have four children: Brooklyn, Harper Seven, Romeo James, and Cruz, so it seems like Posh Spice's personal life is pretty damn amazing.
Outside of her personal life, she's also a phenomenal businesswoman. As a clothing designer, her work made waves in the fashion world, and in November of 2011, Beckham won Designer Brand of the Year at the British Fashion Awards.
In 2017, Beckham partnered with Target (aka my favorite store of all time) and made a clothing line for women and children, meaning you can wear her designs for an affordable cost. God bless Target, amirite?
So, just in case you thought Victoria Beckham simply crushed the fashion world with her Posh Spice attire, know that she literally MAKES her own designer brand wardrobe now.
Our girl is a diva, and I mean that in the BEST way possible.
Melanie Brown, aka Scary Spice
Since the Spice Girls, Mel B. has remained very much in the spotlight. In 2007, she was partnered with Maksim Chmerkovsky on Dancing with the Stars and came in second place. NBD.
Then, in 2011, she became a judge for Australia's The X Factor, and joined The X Factor UK in 2014. Not surprising, considering she definitely knows talent when she sees it.
Brown also had some ~drama~ when judging on America's Got Talent back in 2017, when co-host Simon Cowell made a dig at Brown, comparing a performer's uninteresting routine to the Spice Girl's wedding night. RUDE.
She then threw her drink at Cowell, which was satisfying AF to witness:
Proof that you do NOT mess with Scary Spice.
Emma Bunton, aka Baby Spice
Baby Spice has put her voice to good use after the Spice Girls, co-hosting the radio show Heart London, starting as a guest presenter in 2009 and then filling a permanent slot in 2013. And, in March of 2017, Bunton won awards for Radio Presenter of the Year and Digital Radio Programme at the annual Television and Radio Industries Club (TRIC) Awards for her work on the show.
Bunton's also appeared in many shows like Boy Band and BBC's Absolutely Fabulous, and has judged The X Factor UK and Dancing on Ice.
In 2017, Bunton teamed up with British Airways in honor of Red Nose Day and pranked customers by only speaking in Spice Girls lyrics, and it was actually pretty epic:
It seems like no matter how many decades go by, Bunton is still the same happy, bubbly person we've always adored.
Peace, love, and Baby Spice, y'all.
Melanie Chisholm, aka Sporty Spice
It looks like after the Spice Girls, Mel C. was still singing her athletic little heart out. She collaborated with artist Bryan Adams back in 1998 with a single, "When You're Gone," and released three solo albums following her Spice Girls career. Chisholm also created her own record company, Red Girl Records in 2004, so it's pretty obvious to see that music is still very much a big part of Sporty's life.
She also played a role in the musical Blood Brothers in London's West End in 2009, and was nominated for a Best Actress Laurence Olivier Award for the role.
Oh, and she's still toned AF, in case you were wondering:
Guns for days.
Geri Halliwell, aka Ginger Spice
You guys, I'm not even going to front. Ginger Spice was, and forever will be, my favorite Spice Girl. So, while she's technically last on this list, she's certainly not least (plus, I did it in alphabetical order, so there was no room for playing favorites).
Ginger Spice now goes by the name Geri Horner (after marrying Team Principal of the Red Bull Racing Formula One team, Christian Horner), and has two children, a daughter named Bluebell Madonna and a son named Montague George.
After her Spice Girls career, Horner went on to write an autobiography, If Only, in 1999 and a second autobiography, Just for the Record, in 2002.
Appearing in the past on several shows like All American Girl, Sex and the City (yup, you know the one), and BBC's The One Show, Horner is currently a judge on the BBC One talent show All Together Now, where she offers advice and tips on being a performer. Because, you know, she might know a thing or two about that topic.
Mhm, that's my girl.
So, there you have it, people of the world. I hope that this post has spiced up your life. It certainly did mine.