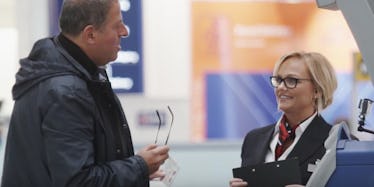 Baby Spice Goes Undercover, Quotes 'Spice Girls' Lyrics In Epic Prank Video
YouTube
Let me be clear. I like my Spice Girls like I like my lattes: Ginger Spice.
However, I will say Baby Spice is my second favorite Spice Girl... until now. Currently, Baby has taken over the number one spot in my heart (sorry, Ginger).
In honor of Red Nose Day this year, Emma Bunton (code name: Baby) joined forces with British Airways (code name: uh, British Airways) for the best prank I've seen in a while.
Basically, Baby Spice tries to fit in an album's worth of lyrics into her conversations as customers check in for their flights.
Sure, the TSA probably didn't approve this, but who cares about those unlovable goblins?! No one.
At one point, Ginger Spice tells a man to come a little bit closer (baby) to a camera and to shake it to the left and shake it to the right.
Of course, he absolutely nailed it.
She even flirts with one of the customers who is about to embark on a ski trip, saying,
Maybe I can come along. When two become one.
Honestly, if I got propositioned by Baby Spice, two would become one very quickly. THIS GUY IS MISSING OUT.
At one point, Emma tells a traveller she just had a fight with her friend. She said,
I said, 'If you want my future, forget my past.'
Same, Emma. Same. You have to forget my vast criminal record if you want my future.
Same, Jesse Pinkman. Same.
The cast of "Love Actually" reunited for a brief sequel for Red Nose Day, and we know there's at least one couple from the original film still going strong.
Who is it? Please I'd never spoil that (unless it was done so in an article I just hyperlinked above, which you should totally check out).
Anyway, where was I?
Oh, that's right. Thank you, Emma, for spicing up my life.
Citations: Spice Girl Emma Bunton goes undercover, pranks airport passengers (Mashable)