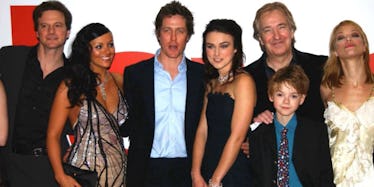 This 'Love Actually' Couple Is Still Married And Adorable In The Sequel
REX/Shutterstock
In case you haven't heard, there's going to be a "Love Actually" sequel.
Sure, it's only going to be a short film, but it will hopefully answer a ton of my many, many questions.
Has Jamie finally mastered the intricacies of Portuguese so he can have a normal conversation with Aurélia?
DID SARAH FINALLY BANG KARL, CONTINGENT ON HIM NOT BEING SO WHINY JUST BECAUSE SHE COULDN'T SLEEP WITH HIM THAT ONE TIME?
Well, one thing is definitely for sure. Hugh Grant is prime minister... again!
How many "uh"s will he manage to fit into one speech? We'll find out soon.
Screenwriter Emma Freud not only slipped (get it? Freudian slip? I'll go) us the following screengrab from the sequel that will be released on Red Nose Day on March 24 (and on May 25 in the US), she posted confirmation of a particular relationship.
Are you ready? Here it is.
David and Natalie are still married, which is kind of amazing considering the fact 2017 is apparently the year true love has officially died.
I mean, Katy Perry and Orlando Bloom have split up. Lady Gaga has moved on from Taylor Kinney.
But David and Natalie? They're probably enjoying champagne and lobster right now.
And I'm not talking about David's niece who adorably portrayed a lobster in that weird nativity Christmas play.
Why is a secular school having a religious celebration? WHY IS THERE A GODDAMN LOBSTER IN A NATIVITY PLAY?
Shhh... Some "Love Actually" questions should never be answered.
While we wait for this sequel, which will have most of the original cast, I'm low-key hoping Mark isn't wrecking his best friend's marriage.
Hopefully, that grand gesture was "enough" for his home-wrecking, turtle neck-wearing ass.
But I digress... Where was I? Oh, that's right.
Here's to David and Natalie! Congrats, you two.
Citations: 'Love, Actually' sequel keeps one couple together (Mashable)