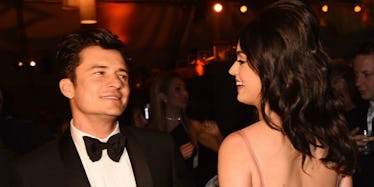 Katy Perry And Orlando Bloom Break Up Proving No Relationship Is Safe In 2017
REX/Shutterstock
Orlando Bloom, professional elf, and Katy Perry, California girl, have called it quits on their relationship.
The couple had only been dating for 10 months, but it certainly felt longer.
Maybe I just assumed it was longer because Bloom was comfortable enough to paddle board naked with her. It usually takes me at least two years to be that comfortable with my body in front of someone.
A statement from both of their reps was released to People. It read,
Before rumors or falsifications get out of hand, we can confirm that Orlando and Katy are taking respectful, loving space at this time.
I call it "respectful, loving space," but my ex calls it "get the fuck away from me, you psycho."
If you're surprised by the breakup, join the club. I totally thought Perry and Bloom were on their way to engagement-ville.
The two threw each other adorable birthday parties and shared posts of each other on social media.
Throwing me a good party and posting about me on social media is not only an easy way to get into my pants, it's a great way to stay close to my heart.
A source told People in August,
[Bloom] would love to settle down with Katy and have more kids.
The source even suggested an engagement ring wouldn't be a wild sight to see on Perry.
They added,
[Bloom] always gushes about Katy and thinks she is amazing in a million ways. He would love to settle down with Katy and have more kids. He hasn't been this serious about a girl since Miranda [Kerr].
Bloom and model Miranda Kerr divorced in 2013 after three years of marriage. They have a five-year-old son Flynn together.
Hmm... Do you think Bloom and Perry broke up because Orlando found out Kerr isn't having sex with her fiancé?
Citations: Katy Perry and Orlando Bloom Split (People)