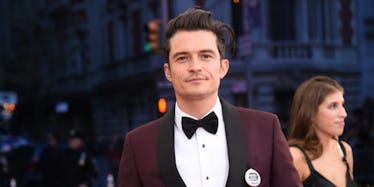 Orlando Bloom's Buddies Partied With A Cutout Of His Naked Paddleboard Picture
REX/Shutterstock
It takes a big man to laugh at himself.
It also takes a big man to laugh at himself getting captured naked paddleboarding by the paparazzi.
And yes, that was a dick joke, and you are welcome.
You know, every couple of weeks we're forced to talk about beloved actor Orlando Bloom's penis.
For some reason, it's in our contract. But as they say, if you love what you do, you'll never work a day in your life.
AH! IT'S A SEA CREATURE!
Oh. It's just a peen.
The "Lord of the Rings" star, who first made me start to question my sexuality when I saw him as a beautiful elf with silky, blonde hair, recently turned 40 years old.
Naturally, his birthday party used the infamous paddleboarding picture, taken while he was on vacation with his girlfriend Katy Perry last year, as a cute photo booth backdrop.
Don't act like you haven't imagined yourself as Katy Perry allowing her elfin boyfriend to strongly row you closer to shore totally naked.
I've always said that's one way to make paddleboarding more exciting. In fact, I have pitched multiple paddleboard rental shops with the following slogan:
Paddleboarding? More like paddle-boring. Let's get naked.
It looks like whoever created this amazing photo op chose to block out the shadow of the penis, which suggests we will experience an early spring and not six more weeks of winter.
The birthday party was a surprise for Bloom, planned by Perry herself, and it took place in Palm Springs, California.
Bloom, probably amused by the photo itself, was just pleased his mom was able to make it to the party.
Check out her sweet sweatshirt. If I have a son, I too will wear his face on my clothing. That's truth -- that's love.
Did she get that custom made or can I pick that up at the shop somewhere?
Also, would it be weird if I had a naked Orlando Bloom Photo Booth at my next social event?
Citations: Orlando Bloom's Friends Pose With Actor's Nude Paddleboarding Cutout for His Birthday Weekend (ET Online)