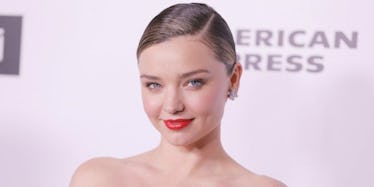 Miranda Kerr Isn't Having Sex With Fiancé Evan Spiegel Until They Tie The Knot
REX/Shutterstock
If you thought Miranda Kerr's relationship with Snapchat CEO Evan Spiegel in the bedroom would involve moves from the "Fifty Shades of Grey" playbook, you're out of luck.
Also, why are you so concerned with Kerr and Spiegel's sex life, and why would you assume it involved some level of BDSM, you pervert?!
Kerr opened up to The Times of London about how she hates Facebook (same, so much in common, Miranda), and how she's waiting for marriage to have sex with her fiancé (OK, no, we have nothing in common).
When the topic of MAKING LOVE was brought up, Kerr said,
Not until after we get married. [Spiegel] is very traditional. We can't … I mean we're just … waiting.
WAITING FOR WHAT?! What kind of relationship is this? Like, bring a book.
Are they sitting in two twin beds in the bedroom "I Love Lucy"-style?!
After the reporter said she was sorry for Spiegel's not having sex with Kerr, the model giggled and said, "I know!"
This totally makes it sound like Spiegel is turning down Miranda Kerr. I don't understand this world anymore.
The way she said, "We can't..." also makes it sound like maybe Spiegel is too nervous to have sex with her, which makes more sense to me.
I would be nervous too, with my sweaty palms and awkward limbs.
Personally, I don't date "traditional" people not because I don't want to wait until marriage, but because, traditionally, they tend to stone or burn witches.
Kerr obviously has had sex before because she has a child with Orlando Bloom.
Imagine going from one relationship where you have regular intercourse before marriage to dating someone who wants to save it for the bling?
What do you do at night? Talk to each other?
Jokes aside, couples are allowed to have sex whenever they want, and it's none of my business because I'm not the one having (or not having) sex with them (yet).
Citations: Miranda Kerr says she and Snapchat CEO Evan Spiegel aren't having sex until marriage (Mashable)