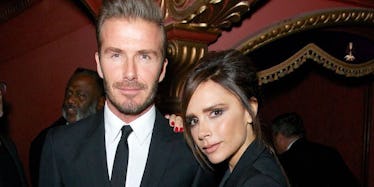 Victoria Beckham Gushing Over David Beckham Proves They're Ultimate Couple Goals
REX/Shutterstock
I don't know how they did it, but Victoria Beckham and David Beckham are two mega-famous celebrities who married each other and actually stayed happy.
I mean, I guess there's still time for everything to fall apart, but after 20 years of being together it seems like the couple is stronger than ever.
The 42-year-old former Spice Girl gave some insight to her secrets to a happy marriage in her new cover story for the Elle UK May issue.
The number one key, according to her?
Find you a man who's willing to step up to the plate — and from the way Victoria gushes about David in this interview, it sounds like the former pro-footballer definitely has.
Victoria said of her husband,
He's great. During fashion week, when I'm working, the children will be in New York and he's already planned to take them to museums then out for dinner on Saturday night, so he is very good at that sort of thing – as am I. That's how you can show your support in a marriage, by saying, 'You know what, I've got this.' That's what makes a good partnership.
The Beckhams now have four children together, Brooklyn, Romeo, Cruz and their youngest daughter, 5-year-old Harper Beckham, who was born in 2011.
Raising four kids definitely sounds like a handful, especially when you're also busy being Victoria and David Beckham all the time. But Victoria says she and David make it work.
She said,
David and I both respect that each of us are very, very busy; we are both running big businesses, but we do put the phones down, and sometimes we just talk. When David was on Desert Island Discs on Radio 4 recently, it was great to sit as a family and listen.
Look, I don't want to be the person who goes, "Oh my god, they actually TALK, that's amazing!" But like... this family actually talks, and that's pretty amazing.
One thing that's been keeping Victoria pretty busy lately is the launch of her new fashion line with Target.
"I love fashion — this is what I'm genuinely interested in," Victoria said, explaining that while she had fun in the Spice Girls, it wasn't the career for her. "I was never the best singer or dancer."
Well, we know Mel B agrees with that, anyway!
Check the full interview with Victoria Beckham in the May issue of ELLE UK, on sale April 13.