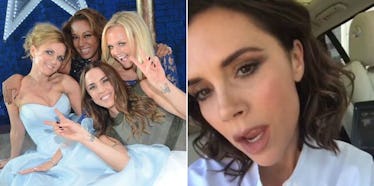 Mel B's Pissed At Victoria Beckham For Spice Girls-Themed 'Carpool Karaoke'
REX/ Shutterstock/ Instagram
Victoria Beckham -- formerly Posh Spice of the Spice Girls -- is going to appear on James Corden's "Carpool Karaoke" on Friday night.
While some fans are stoked to reminisce about the good ol' Spice Girls glory days, others are a little skeptical she's the only member of the pop band being featured... especially after she completely distanced herself from their previous reunion band and tour.
Scary Spice certainly isn't having it, and she is "livid" about Beckham's decision to be on Corden's show.
Sources told The Sun how furious Mel B became upon discovering her former bandmate was going to sing their hit songs on Carpool Karaoke.
Apparently, Mel B feels Beckham is using their old Spice Girls material to promote her own fashion career.
The source said,
Mel is livid Victoria is all of a sudden embracing her Spice Girls past after years of trying to distance herself from the band. She was desperate for the girls to go on a very lucrative reunion tour to celebrate their music with millions of fans. But once Posh pulled out, the idea began to crumble leaving the members of the band who were keen to perform having no choice but to ditch it.
They continued,
Mel feels it's unfair Victoria is now using their music to boost her own profile.
When you put it that way... what the heck, Posh?!
Plus, Victoria still uses Spice Girls hit songs in her ads for her clothing line at Target.
Mel B has become enraged at the recent use of Spice Girls songs and has threatened to take legal action against Victoria, The Sun reports.
Regardless, Victoria seems oddly excited to be a part of James' show, despite her reluctance to sing Spice Girls songs throughout the past years.
I suppose we'll never know her true agenda for appearing on "Carpool Karaoke," but we're still going to watch it -- for old time's sake.
Citations: SPITE GIRLS Victoria Beckham and Mel B are AT WAR after Posh belts out Spice Girls hits on Carpool Karaoke (The Sun)