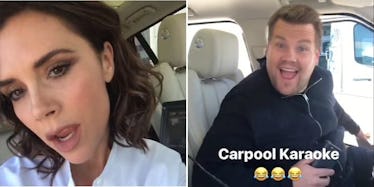 Victoria Beckham Is Doing 'Carpool Karaoke' And Spice Girls Fans Are Losing It
Instagram
Victoria Beckham was listening when I told her what I really, really wanted, because the former Spice Girl is doing "Carpool Karaoke."
The 42-year-old fashion designer teased Posh Spice fans with a special behind-the-scenes look of everyone's favorite segment on "The Late Late Show with James Corden."
Beckham posted pics and videos on her Instagram and Instagram story...
...saying "Top secret filming" in the caption while getting her hair done.
But then in the very next video she announced exactly what that top-secret filming was:
So we are here about to film 'Carpool Karaoke.' Where's James? There he is!
Then James popped in the car and said "hi."
We got a brief look at all the cameras and machinery hooked up to the dashboard of the "Carpool Karaoke" car.
Beckham also posted a pic of herself not in on the joke.
"What is so funny," she wrote in the caption.
So it seems pretty dang likely that when this "Carpool Karaoke" comes out, we'll get to hear Posh Spice singing her old tunes again (considering Victoria Beckham doesn't really have that much on her musical repertoire — or not ones James Corden would know the words to, anyhow).
Obviously, some Spice Girls fans are pretty dang excited about this.
Others are feeling a little hurt that Posh would do this, but not a Spice Girls reunion.
And it's true — last summer Mel Brown, Emma Bunton and Geri Horner (aka Scary, Baby and Ginger Spice) all got together for a reunion to celebrate the Spice Girls' 20th anniversary.
But both Beckham and Melanie C (Sporty Spice) claimed to be too busy to participate in the reunion.
So you can see how Posh singing "Wannabe" with James Corden but not her Spice Girls sisters could be kind of hurtful.
But hey, at least it's something. Spice Girls forever.
Citations: Victoria Beckham is coming to 'Carpool Karaoke' and it's going to be huge (Mashable)