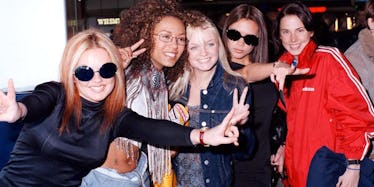 The Spice Girls Are Officially Back — But They Have A New Name
REX/Shutterstock
The Spice Girls are giving us all what we kinda, sorta want: a partial reunion.
To celebrate their 20th anniversary, The Spice Girls are getting the band back together, sort of. The catch is only three of the five girls will be there, and they're changing their name.
Scary, Baby and Ginger Spice (AKA Mel Brown, Emma Bunton and Geri Horner) are getting together under a new band name, GEM, which stands for the first letter of their names.
Meanwhile, Sporty Spice (Melanie C) and Posh Spice (Victoria Beckham) will not be joining them.
The news came in an announcement video on a new Spice Girls GEM YouTube page, with the promise of more details on a special surprise coming soon.
Now, there are several things to talk about here.
First, can we talk about how Geri, Emma and Mel — international superstars who are now in their 40s — named their new band in the exact same way you named your imaginary band with your friends in middle school?
Second, let's talk about how this video looks like it was made in the 2009 version of iMovie. And Ginger Spice just straight up filmed herself in selfie mode on her iPhone.
I'm starting to think this Spice Girls reunion thing is so easy I could do it.
And, of course, there's the fact it's not really a REAL reunion. Everyone has mixed feelings about this.
So #SpiceGirlsReunion is on with only 3 of them as #GEM don't know how excited I am. — Robert Ward (@RPW85) July 8, 2016
OMG the Spice Girls are back #Gempic.twitter.com/6XDEZp89kR — Franklin Lake (@FranklinLake_) July 8, 2016
I guess we'll have to wait and see what the Scary Gem, Baby Gem and Ginger Gem have in store for us!
Citations: The Spice Girls Have Changed Their Name — & Lost 2 Members (Refinery29)