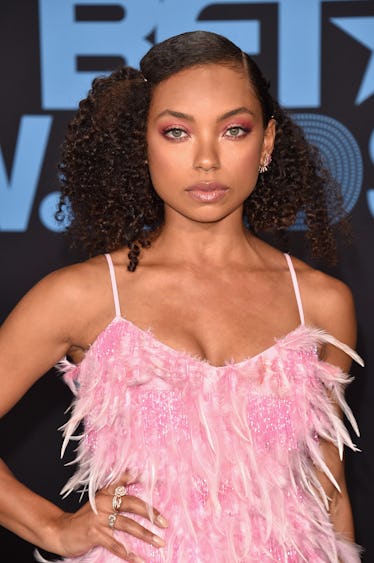 'Dear White People's Logan Browning Revealed How She Maintains Her Stunning Curls
Alberto E. Rodriguez/Getty Images Entertainment/Getty Images
If you're a regular Netflix marathoner on weekends (or week days, no judgement), chances are you're probably all caught up on Season 2 of Dear White People. As I was making my way through the second installment of the 10-episode series, which was released this past May, I would be lying if I said I didn't have just a little hair envy whenever Samantha White popped up on my laptop screen. But thankfully for us curly girls, Logan Browning's secret to maintaining her curly hair has finally been revealed — and it's affordable.
"I am a DevaCurl hag," the actress told Glamour in an exclusive interview published on Friday, June 8. "As a curly girl, it took me a long time to find what works."
As someone who just started their natural hair journey two years ago, I can definitely relate. Most people who've transitioned back to their curls can probably agree that finding the right routine was a serious case of trial and error. But it seems like Browning has hers down pat, which she shared, step-by-step, along with her favorite products from the DevaCurl line.
"In the shower I detangle section by section," she said. "I use their No Poo-Original ($10, devacurl.com), Heaven in Hair ($28, devacurl.com), and mix B'Leave-In ($40, devacurl.com) with Arc Angel Gel ($22, devacurl.com). I twist it up in a towel turban and let it air-dry because I like my hair to be really big. Then there's a lot of shaking and pulling."
So what's the one thing keeping Browning hooked to the DevaCurl hair line? Its products are water-based and contain no mineral oil, which she told Vogue back in May 2017 is a no-no for her mane.
Browning also shared with Glamour that learning to love her natural locks was a journey. And for a long time, she believed that only wearing straight hair made her pretty. "[When I was] growing up in the South, getting my hair done once a week was a thing," she said. "By college, I had never seen it curly."
Thankfully, the now 29-year-old Atlanta native has come a long way, telling ESSENCE last spring that what she adores most about her hair these days is that it's "100 percent unpredictable."
"I can wake up in the morning and wash and dry it and by the end of the day it is in completely different shape," she told the publication as a part of their "My Mane Moment" series. "But I love that it's an extension of me. It's free, it's bouncy, it's fun. It can be sophisticated when it needs to be."
While it's clear she's definitely in love with her natural tresses, for now, the star has tucked away her curls under some gorgeous brown and blonde goddess locs, which she wore to the Dear White People premiere in early May, and has been flaunting on Instagram ever since.
Still, Browning is no stranger to protective styling, sharing with Hype Hair in 2016 that she does it as often as she can.
"Working in an industry where I could be chased down with a hot tool up to five times a day means I have to keep my own tresses tucked away," she said. "I wear weaves, half-wigs, and, most recently, I've tried my first full lace wig on-screen. I have no shame in wearing pieces while filming because otherwise my hair would be damaged, brittle and broken."
As much as Browning loves to switch up her 'do, one thing is definitely for sure: Whether she's rocking her natural curls, extensions, or faux locs, she will always give me major hair envy.