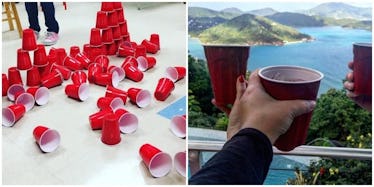 Man Who Invented Red Solo Cups Died And 2016 Is Officially A Buzz Kill
Instagram
You probably don't know of Robert Leo Hulseman, but he has likely had a significant impact on your life.
At some point during the last few decades, college-aged kids across this wonderful nation all agreed on a single thing: They would drink beer out of red Solo cups. Occasionally, the Solo cups are blue. But they are always Solo cups.
I mean, why do I even know the name of a type of plastic cup? I don't know the name of a particular brand and model of paper plate. And these cups aren't like Kleenex, which is the name of a company that we use to just describe all tissue paper boxes.
No. Solo cups are a specific type of plastic cup, and when we use them, we are using them to describe those specific cups. I don't know — the world is weird.
I am here to announce the tragic news that the inventor of this ubiquitous product has died.
Robert Leo Hulseman took over his father's company Solo Cup Company and ran it for over 60 years, until he retired in 2015. Originally they made paper cups, but it was Robert who, in the 70s, invented the red plastic Solo cup.
It's extremely rare for a product to be so well designed and cheap that it can't be improved upon or replaced in almost five decades, but that's what Hulesman accomplished.
Although, just looking at one of those makes me taste bile. But, like, in a very good way.
Hulseman, 84,  had 10 children. Presumably, because, this way, he could bring a party everywhere he went.
This comes from his obituary:
Bob to his friends and Papa to his grandchildren, he was known for his sense of humor, which manifested in many a bad joke, great wit, and his ability to spin a partner on the dance floor. He had a gift for music, which he inherited from his mother, and his family and friends remember fondly the times he sat down at the piano to entertain.
So pour one out for Bob this New Year's Eve.
Citations: Inventor of the Red Solo Cup, Robert Leo Hulseman, Dies at 84 (US Weekly), Robert Leo Hulseman (Donnellanfuneral.com)