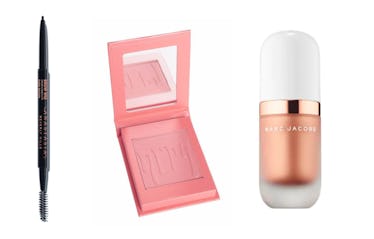 Kylie Jenner's Makeup Tutorial Shows How She Perfects Her Skin — Without Covering Her Freckles
Whether Kylie Jenner is rocking a full face of makeup or developing a new shade of lipstick, there's no denying that new mama knows her way around a makeup bag. Luckily, Kylie Jenner's new makeup tutorial reveals the exact products she uses on the reg (hint: some of them might already be in your makeup bag!). She also dishes out some seriously useful application tips!
In a 10 minute video produced by Vogue, Jenner walked the world through a casual makeup routine. The brunette beauty starts with a clean, moisturized face. Then, she applies Chapstick or some other type of balm to keep her pout supple pre-lipstick. Next, Jenner grooms her brows using the Anastasia Beverly Hills Perfect Brow Pencil ($23), which features a spoolie and a teeny tiny pencil.
Then, Jenner swipes concealer right up under the arch of her brow to give it some extra shape. She also uses concealer on her lid, which doubles as an eyeshadow primer of sorts. (I'm going to copy these concealer priming hacks, STAT!). To ensure her concealer is smooth, she blends everything with a Beautyblender ($20; beautyblender.com).
As for color cosmetics, Jenner — of course — uses products from her own line! Specifically, she whips out a yet-to-be-released eyeshadow palette (it's yellow with KYLIE stamped across the front). She doesn't name all of the exact shades she uses, but she does reveal that she's using some matte shades in her crease to create dimension and natural-looking shadow.
"I have some meetings and I'm not trying to go too crazy," she says as she blends the neutral tones. Nevertheless, a girl's gotta have some sparkle, so she brushes on some gorgeous gold-hued shimmer under the arch of her brow and over her lids. Then, she takes us through a major plot twist, and selects a bright orange shade from the palette, "Juicy," which she dabs in her inner corners. Beachy!
Because she's a real human who has makeup blunders just like the rest of us, Jenner swipes away excess fallout with a makeup wipe. "That's why I do my foundation after my eyeshadow" she explains (smart!).
Now for complexion. This was the most exciting part for me, because I've always envied Kylie's ethereal, glowing skin! Behold, the Marc Jacobs Fantasy Dew Drops ($44; sephora.com), which Jenner says she's "obsessed" with (I am too, for the record). She mixes a few pumps of the stuff with her foundation, adding "I kind of like my freckles to show through."
As she's buffing her foundation concoction, Jenner explains how she became interested in makeup. Apparently, she discovered it in the way that so many of us did: through stealing her mom's supply! (Baby blue and baby pink Chanel eyeshadows, she recalls).
Next, time for under eye concealer. "I like to mix concealers because I like to use a pinkier one and a beigeier one," she says. Jenner seals her skin products with big sis KKW's setting powder (aw!).
Then, on to lips. Jenner uses lip liner to fill in the entirety of her pout — a step she says she could do with her eyes closed. (And she does!) Next, she slides on a coat of the Kylie Cosmetics Nova Lipstick ($18; kyliecosmetics.com).
Then, back to the eyes. Jenner sweeps on more (!) of the sunny orange eyeshadow underneath her eye. (Side note: I am officially convinced that I can wear an orange eye look now!) Next, brightening powder under her eyes. To give her skin a rosy flush, Jenner applies the Kylie Cosmetics Blush in Barely Legal ($20; kyliecosmetics.com) to the apples of her cheeks. She sweeps some across her forehead and chin, too. For highlight, Jenner uses a tiny brush to sweep on the Kylie Cosmetics Kylighter in Salted Caramel ($22; kyliecosmetics.com).
Jenner applies a coat of the Diorshow Mascara ($29.50; sephora.com) over top of her false lashes for added volume. Then, she uses brown mascara on her bottom lashes to really open up those eyes.
For finishing touches, the makeup maven dabs on one of her new Kylie Cosmetics glosses, some brow gel, and some more blush for an extra-rosy glow. The result: major beach babe vibes that I want to copy, ASAP!
Watch the full video above, and marvel at how Jenner manages to perfect her skin AND allow her freckles to shine through. Slow clap.