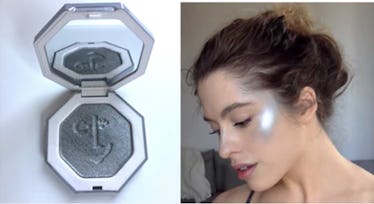 I Tried Fenty Beauty's New Silver Highlighter & You Need Sunglasses To See The Pics
Sophie Wirt
Rihanna has done it again, ladies and gents. This time, the beauty maven created the highlighter to end all highlighters, and it's coming at you at the speed — and luminosity — of a shooting star. Brace yourselves. This Fenty Beauty Diamond Ball-Out Highlighter Review is about to light up your screen.
By now, RiRi has made a name for herself as one of the biggest players in both music and makeup. Who doesn't love the song, "Diamonds"? And who among us has ever scoffed at a dazzling, diamond-like highlighter from Fenty Beauty? Certainly not me. In fact, I would argue that the 30-year-old musical makeup maven is the preeminent purveyor of highlighter, especially after I had a chance to try her latest launch, the Fenty Ball-Out Highlighter.
I knew this silver highlighter was going to blow me away before I even touched the stuff. After all, to try a Fenty Beauty highlighter is to love it, am I right? Every Killawatt formula seems to strike the optimal glitter to glow balance, whether it's one of the more traditional hues or a quirkier shade like "tangerine" or "metallic orchid."
Anyways. The latest shade in the Killawatt fam is shinier than a freshly-minted silver dollar. No joke — you can practically see your reflection in its shiny abyss (OK, not quite...but, incidentally, the compact does come with a mirror!).
Because this formula is so intensely pigmented, I would recommend using a sparse fan highlighting brush (try the Morphe MB40, $5; morphebrushes.com) to dig in and build up, gradually, to your desired intensity. Alternatively, if you use a super densely-packed brush, you'll get a heck of a lot more pigment all at once... which can end up reading kind of Tin (Wo)man-esq. Although, let's be honest: looking like you're made of literal metal is pretty badass.
Similar to many people's highlighter routines, I generally brush my luminizer over my cheekbones and down the bridge of my nose (i.e. the highest points of the face). This shade looks phenomenal on cheeks, but I have to admit — it's not my favorite down-the-nose shade, solely because it is so silver. But! That's just my opinion; I'm sure there are plenty of people who could totally rock this highlighter on literally any area of the body. (Because Riri is all about breaking those rules, people!)
If you've taken a gander of the makeup tutorials Rihanna has made, you'll notice she's really into highlighting unconventional areas, including the collarbone. I shamelessly copied this trick (below), and I have to say, it's a good one! Additionally, I experimented by sweeping it across my lids, too. Talk about putting the "chrome" in monochromatic makeup! And why limit such a beautiful highlighter to your cheeks alone?
Perhaps the most beautiful thing about this highlighter, though, is what it stands for. Instead of the usual Fenty Beauty logo, you'll notice that this product is emblazoned with what appears to be an artistically drawn face. Look a bit closer and you'll see that the face is made up of the letters C and L, which stand for Clara and Lionel — AKA Rihanna's grandparents. ICYMI, the singer is also a humanitarian: Rihanna started her own charity in 2012, The Clara Lionel Foundation (named after her grandparents). The foundation gives access to education and healthcare to people in need, and it has done some really phenomenal work over the past six years. The Diamond Ball-Out Highlighter is the first product made specifically for the charity, but you can always donate to the foundation via this link.
You can snag the sparkly, shining piece of highlighter magic starting at midnight on Wednesday, August 1 for $34, exclusively on fentybeauty.com. It's truly a treasure!