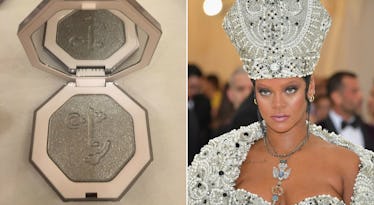 Fenty Beauty's New Silver Highlighter Shines Like Diamonds In The Sky — & It's All For Charity
Alana Peden // Neilson Barnard/Getty Images Entertainment/Getty Images
Rihanna has single-handedly taken over the beauty world with her cosmetics line, Fenty Beauty, and with each new launch, it seems as though this brand just keeps getting better and better. So in typical Rihanna fashion, it's no surprise that there's yet another new Fenty Beauty highlighter dropping soon, because she's the queen that just keeps on giving. Let me just say, this is a product that will not only make you look good, but will also make feel great about your purchase.
Yes, RiRi's new Diamond Ball-Out Highlighter (retailing for $34) will be added to Fenty's Killawatt Freestyle Highlighter line. According to the brand, this highlighter promises to "light up all skin tones like never before." The product uses a weightless, "long-wear," "cream-powder hybrid" formula to give you a smooth finish that will keep you glowing all day (and night) long. To apply, Fenty Beauty Global Makeup Artist, Hector Espinal, suggests starting at the apples of the cheeks, then slowly moving toward the temple, across the eyelid, and then back into the temple "for a lifting effect." Espinal also suggests even using the highlighter as an eyeliner, if you want a stand-out, shining look.
The best part about the new highlighter, though? All the proceeds made will go directly toward Rihanna's non-profit, the Clara Lionel Foundation (CLF). Founded in 2012 in honor of the singer's grandparents, the CLF helps to fund groundbreaking education, health, and emergency response programs across the globe.
"This very special silver Killawatt takes highlight to a whole other level," Rihanna said in a statement. "It will have you glowing like never before because whenever you wear it, you're supporting children and other people in need all around the world."
Here are some sneak peeks of Diamond Ball-Out so you can see this silver shine for yourself. (Warning: You may want to wear sunglasses while you're looking at it — it's that bright!)
So what was Rihanna's inspiration behind the product? The answer is just as philanthropic as the initiative itself. The "Work" singer chose to name the product "Diamond Ball-Out" as tribute to The Diamond Ball, an annual star-studded gala supporting the CLF.
If, like me, your invite to The Diamond Ball has gotten lost in the mail for the past couple years, Rihanna has some great news for you. The limited-edition Diamond Ball-Out Highlighter will drop on August 1 at midnight ET, exclusively on fentybeauty.com. If you're able to purchase it through August 24, every dollar spent will grant you one entry into a drawing, where one lucky buyer and a guest of their choice will win a trip to Rihanna's Diamond Ball in New York City, taking place on Sept. 13, 2018!
If you do the math, this means buying one highlighter will get you a whopping 34 entries into the exclusive draw. But if shining bright like a diamond isn't quite your thing, you can also donate directly to the CLF through Fenty Beauty's website to be entered as well. And if you're not able to buy the new highlighter in the month of August, you'll likely still have time to get your hands on it later, as the brand anticipates it will be available through the holidays.
And if you're thinking to yourself that this highlighter looks awfully familiar, then you're definitely onto something: Rihanna apparently donned the Diamond Ball-Out glow at this year's Met Gala, honoring the "Heavenly Bodies: Fashion and the Catholic Imagination" theme perfectly.
Rihanna gave us the iconic, gold "Trophy Wife" shade, and now, she's servin' up silver with Diamond Ball-Out. Tell me what we did to deserve this queen?