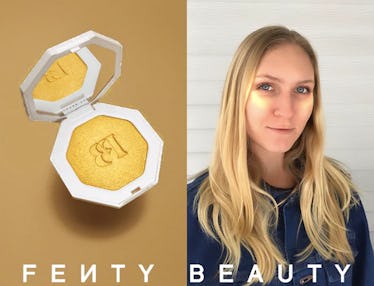 This Fenty Beauty Filter Lets You See & Share Your Rihanna Glow-up — For Free
Ariana Marsh
Brace yourself: Rihanna just launched yet another product in connection with her Fenty Beauty empire. Before you freak out, it is NOT of the makeup, skincare, or fragrance variety! It's a camera effect that lets you try on RiRi's favorite Fenty highlighter, and it rules. Here's how to get Fenty Beauty's Facebook filter, which lets you virtually test drive Rihanna's cult-favorite Killawatt Freestyle Highlighter in Trophy Wife ($34; sephora.com).
To preface this, I'll admit I've never used a Facebook camera filter before (I'm an Instagram and Snapchat user through and through). All you have to do to be able to use the Fenty camera effect is click over to Facebook's camera effects. If you click it on a computer, you'll be redirected to Facebook, where you'll be prompted to send a notification to your mobile device, which you can then click on to use the effect. If you click on the link directly from your phone, you'll be redirected directly to your Facebook camera. In short: you can only use the effect when on Facebook on your phone.
Now that you know how to get the filter, let me tell you why you should. I'm ashamed to admit that I spent a good 20 minutes this morning taking selfies with the Fenty effect, because it really is THAT good. As I mentioned above, it lets you virtually test drive Rihanna's highlighter in Trophy Wife, which is a super shimmery golden hue that makes your skin look like it's been kissed by a fire goddess. RiRi herself wore it to Fenty Beauty's launch party in Brooklyn earlier this year, so you know it's one of her favorites.
I've never tried Fenty highlighter before, but the filter makes me want to buy Trophy Wife. When you first open the filter, you have the option to take a photo of yourself within a branded Fenty frame, of sorts (it breaks the screen up into four sections, with your face appearing in two, and a Trophy Wife product image in the other two), or as a full-bleed, non-branded image. Either way, your face is lit up with a virtual dusting of the highlighter along your cheekbones and around your eyes, turning you into the glowiest, most lit-up version of yourself ever. It ROCKS!
Since I'm at my dad's house in Colorado for the holidays, I decided that our backyard would provide the best lighting for the test photos. (Extra.) The ground is blanketed in snow and flakes are still falling from the light grey sky, so stepping outside is basically akin to being surrounded by a 360 degree lighting reflector (like they use on professional photography sets).
I'm pretty sure my neighbors, who can see into our yard, now think I'm the most narcissistic human around (I can just hear them saying, "What has New York done to her?"), but the filter was so addictive to mess around with that I don't even care that I was out there selfie-ing it up for 20 minutes. Bless you, RiRi, for creating the most gorgeous filter a beauty lover could ask for.
The highlighter, both IRL and on a screen, looks gorgeous on all skin tones and against all hair and eye colors, which shouldn't come as a surprise since Rihanna is the queen of creating inclusive products. (As you've probably read ten million times by now, her wide-ranging line of foundation has been applauded for catering to literally all skin tones.)
It would be perfect for a metallic New Year's Eve look and, as proven by Fenty campaign star and coolest model alive Slick Woods, can double as shimmery eyeshadow. If you can't shell out for the actual product, you can still take sick pictures of your NYE glam with the filter and share away.
Another point to RiRi for making me covet something I didn't even know I needed by way of a brilliant and service-y tech campaign. Now I'm just waiting for the cleverly-named Fenty Beauty Mattemoiselle lipsticks to drop.