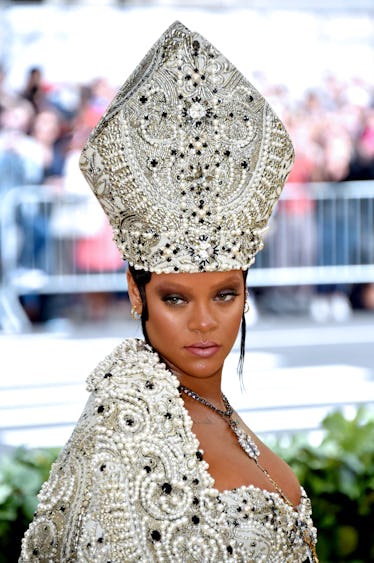 Rihanna Showed Up To The Met Gala Literally Dressed As The Pope & Twitter Lost It
JOHN SHEARER/GETTY IMAGES
Now that Rihanna has made her Met Gala debut, is it too soon for me to say that everyone else can go home? She seriously slayed my entire existence and I can't deal with anything else. Even the tweets about Rihanna's 2018 Met Gala agree with me.
On May 7, celebrities made their way to New York City's Metropolitan Museum of Art for the annual Met Gala, serving their best looks along this year's theme "Heavenly Bodies: Fashion and the Catholic Imagination." Rihanna, specifically, is known for living up to the theme — no matter how far-fetched it may seem — and this year, she didn't disappoint one bit. The Fenty Beauty mogul showed up wearing a bedazzled Maison Margiela Artisanal gown by John Galliano, according to Vogue, that she paired with a matching papal mitre and necklace, and I just wanna know: what Pope? Can the real one please stand up?
Twitter users could not get over Ri's look.
One user tweeted that he was too weakened by the slay to even move, and the comment honestly could not be more spot-on.
Another Twitter user wrote, "Rihanna just does what she has to do and makes it look easy. Nice to see everyone else try. It's been fun," and honestly, same.
Now for the look itself: I present to you, Pope Robyn Rihanna Fenty:
At first, I was shook by her gown — like I wasn't supposed to like it. But now that I've ingested it, I love this look so much! Please Ri, take your embellished Louboutins off my neck so I can breathe for one sec!!! And did I mention she's also hosting this year's gala alongside Amal Clooney and Donatella Versace? Yep, it gets even more iconic.
Rihanna always comes to slay and make a fashion statement, so I don't know if anyone is really surprised at this year's look. In 2016, the gala's theme was "Rei Kawakubo/Comme des Garcons: Art Of The In-Between," and the "So Hard" singer seriously looked like a walking sculpture. She wore a Comme des Garçons creation, which she accessorized with dainty flower earrings and a dusting of red makeup all over her eyes and cheeks.
One of her most legendary looks was the gown she wore in 2015, though. That year, the theme was "China: Through the Looking Glass," and she did the theme proud. She wore a stunning, imperial yellow gown by Guo Pei (though it resulted in a spew of "pizza dress" memes for its giant circular train). To complete her look, Ri chose a glittering gold headdress and a matching necklace, which helped earn her the title of one of the best looks of the evening.
Even she couldn't help but gush over her gown. While walking the red carpet, she told Vanity Fair, "I'm so in love with this dress, but the train is insane! I can't really walk in it without any help—but it's so worth it. I love this dress so much! It's Chinese couture and it's made by Guo Pei. It's handmade by one Chinese woman and it took her two years to make. I found it online."
I don't know how she does it, but each year, Rihanna manages to outdo herself on a level that's never quite been done before. I'd love to sit here and cook up ideas for what she'll pull off next year, but since she literally never lets me down, I'm OK with leaving that up to her. See you next year, Ri.