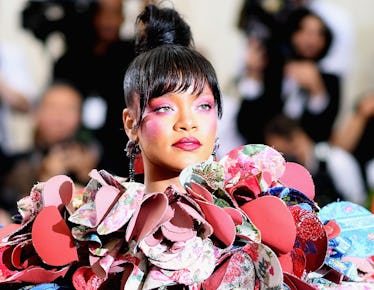 The 2018 Met Gala Hosts Have Been Revealed & They're Seriously Epic
Dimitrios Kambouris/Getty Images Entertainment/Getty Images
It's almost time for my favorite fashion event of the year — the Met Gala! I mean, there's a reason why people call it the Oscars of Fashion. The outfits are wildly glamorous, the guest list is a super-exclusive mix of models, rockstars, and other hot celebs, and the themes are always oddly-specific and yet somehow totally obscure. So, who is hosting the 2018 Met Gala? Rihanna always brings her A-game to the event's red carpet, so it's really not all that surprising that this year she's been tapped to co-host, along with Amal Clooney and Donatella Versace. SO MAJOR. That's a seriously impressive trio right there, and I cannot wait to see what they wear!
The Met Gala always takes place at the Metropolitan Museum of Art in New York City on the first Monday in May, and this year, that falls on May 7. The theme will be "Heavenly Bodies: Fashion and the Catholic Imagination." Sounds kind of... conservative. Or like something Madonna came up with back in 1989. According to Vogue, the theme will focus on a "dialogue between fashion and the masterworks of religious art." That's quite an interesting concept, and I can't wait to see how Bad Girl RiRi interprets it. Whatever she does, I know it's going to be show-stopping. Remember when she crushed it in yellow back in 2015?
Total queen! Meanwhile, over on Twitter, fans are already busy speculating about how fabulous the "Umbrella" singer's Met Ball look will be.
The exhibition will reportedly have around 180 pieces on display, including a papal tiara featuring 18,000 diamonds, and items worn by Pope Benedict XIV in the 1600s. There will also be fashion from designers including Dolce & Gabbana, Jean Paul Gaultier, Chanel, Versace, and Valentino.
I wonder if Madonna's controversial nun costume from her Rebel Hearts tour will make the cut.
Whatever winds up in the exhibition, let's hope no one decides to try and rob the Met Gala, like Rihanna and her girl squad attempt to do in the upcoming movie Ocean's 8. That's right — Rihanna is hosting the Met Gala, and also starring in a movie about robbing the Met Gala. What are the freaking chances? OK, so they're actually stealing from a woman who's attending the Met Gala — played by Anne Hathaway — who happens to be rocking a seriously blingy $150 billion necklace. Whatev. The bottom line is that the trailer for this thing is all kinds of amazing, so why split hairs?
Game on, indeed!
The first trailer for Ocean's 8 dropped a few months ago, and it introduced us to all the badass women involved in the flick. There's Sandra Bullock as Debbie Ocean, the ringleader and estranged sister to George Clooney's Danny Ocean from the original Ocean's Eleven. Cate Blanchett takes over the Brad Pitt role as Lou, Debbie's sidekick. Helen Bonham Carter plays Rose, a stylist. Mindy Kaling takes on the role of Amita, a jewelry expert and forger of fake diamonds. Sarah Paulson is Tammy, a suburban mom who's left her life of crime behind but ends up coming back. Awkwafina is Constance, a gifted street pick-pocketter. Anne Hathaway is Daphne Kluger, the celeb who wears the aforementioned $150 billion diamond necklace. And Rihanna is Nine Ball, a master computer hacker.
Seriously, how amazing is the name Nine Ball, you guys?
Check out this picture Rihanna posted on January 30 of the whole posse just casually taking a subway ride in Manhattan.
Summer cannot get here fast enough, you guys, and neither can the Met Gala!