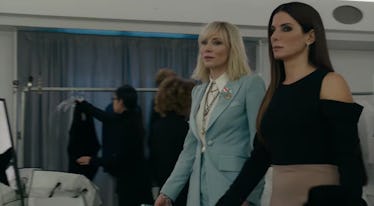 The 'Oceans 8' Teaser Trailer Is Here & Our Excitement Is At An All-Time High
Warner Brothers Pictures
It's not even 2018 yet but I already know what the best movie of the whole year is going to be. With the most stellar all-star cast in the history of cinema, Ocean's 8 has already gotten movie fans hype from just a few cast photos, but now we officially have our first real look at the female-led heist movie, and it is so, so badass. Although the newly released Ocean's 8 teaser trailer is super short, it includes some telling introductions to the characters all of the stars will be playing, and even a few hints about the plot. We can break the whole thing down frame by frame and see what we can discover.
First, let's get the background info out of the way. Ocean's 8 is a spin-off and continuation of the Ocean's trilogy, which include the ensemble heist movies Ocean's Eleven (2001), Ocean's Twelve (2004), and Ocean's Thirteen (2007). Just as the original trilogy was noted for bringing together a slew of A-list actors, Ocean's 8 is bringing together some of the biggest actresses in the biz. The new movie will star Sandra Bullock, Cate Blanchett, Rihanna, Anne Hathaway, Helena Bonham Carter, Mindy Kaling, Sarah Paulson, and Awkwafina. Not much was known about the movie before this teaser dropped, but the new clip actually clarifies a great deal. So check out the new trailer below, and then we can break it all down.
So yeah: are you excited for this yet? The teaser may only be 15 seconds long, but it does end with the promise that the full-length trailer is dropping on Tuesday, so get pumped for even more! But for right now, let's go through all the main characters we get introduced to and see if we can make sense of this mysterious movie.
Sandra Bullock as Debbie Ocean
The main protagonist of the new movie will be a major connection to the original Ocean's trilogy. Sandra Bullock's character of Debbie Ocean is described as the estranged sister to George Clooney's Danny Ocean, the master thief that brought the whole crew together in Ocean's Eleven. And it sounds like she is as skilled at robbery as her brother was, responding to Cate Blanchett's question of why she wants to stage a grand robbery with a coy "'Cuz it's what I'm good at."
The trailer also reveals the reason we won't be seeing George Clooney reprise his role of Danny Ocean in the new movie. A quick shot shows Debbie mourning at her brother's grave — he apparently died very recently.
Cate Blanchett as Lou
Cate Blanchett's character of Lou seems to be the closest friend to Debbie Ocean, as they appear alongside one another a couple times throughout the clip. But aside from that, we still don't know much about her part in the heist.
Rihanna as Nine Ball
One of the most exciting parts of Ocean's 8 is sadly also the most mysterious. We get a quick shot of Rihanna snapping a pair of tongs together, but that's it.
Helena Bonham Carter as Rose
We get a very quick shot of Helena Bonham Carter's character Rose looking intently at a diamond necklace.
Anne Hathaway as Daphne Kluger
Anne Hathaway gets some major glamor on in the teaser in her role as Daphne Kluger, trying on a fur coat and giving the camera some duck face. We also see her slapping a man on a couch for a brief second.
Mindy Kaling as Amita
The shot we get of Mindy Kaling is the most helpful in actually determining what her character's role in the movie will be. It looks like Amita is a master forger or diamond-cutter.
Sarah Paulson as Tammy
We get a quick look at Sarah Paulson's character of Tammy through a stack of Keurig boxes. Maybe she works at a big-box store?
Awkwafina as Constance
Rapper and comedian Awkwafina (you may recognize her from Girl Code or Neighbors 2) rounds out the cast as Constance. We see a quick shot of her disguised in a suit walking down a wall.
Plot details
We already know that the movie will center around the eight women robbing the Met Gala, and the new teaser really drives home that fashion and glamor will be a major theme, as we see Sandra Bullock and Cate Blanchett strutting through the backstage of a fashion show and studying the seating chart for Vogue's guests at the event. And with those clips of Mindy Kaling and Helena Bonham Carter staring at a diamond necklace, it looks like getting that will be their object.
Ocean's 8 will drop on June 8, 2018.