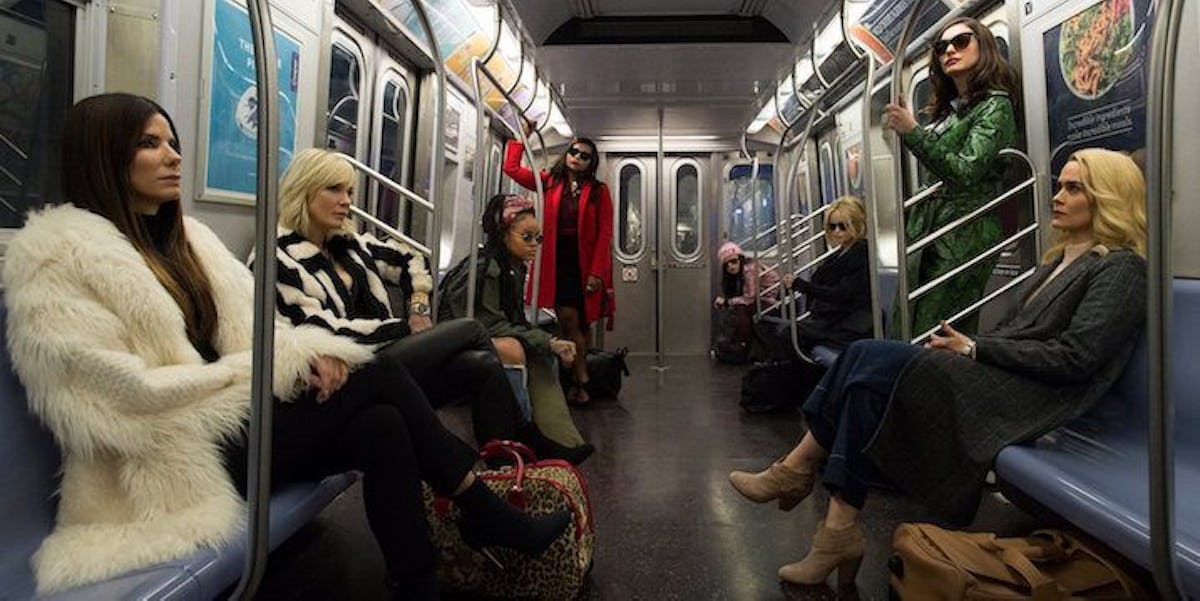 Rihanna Tweets First Look At 'Ocean's 8' And It's Full Of Badass Women
Warner Bros.
Rihanna knows we need a little bit of joy right now.
Why else would she have blessed us with the first official photo of the "Ocean's Eleven" spinoff featuring an all-lady main cast?
The spinoff is called "Ocean's 8" and stars Sandra Bullock, Cate Blanchett, Helena Bonham Carter, Mindy Kaling, Awkwafina, Anne Hathaway, Sarah Paulson and, yes, Rihanna.
So in other words, this movie is going to lit AF.
We got a small taste of just how awesome this film is going to be when Rihanna posted the first official photo on January 30 of the ladies taking a NYC subway ride.
Warner Bros. also posted the photo to its Facebook page with a list of character names.
PHEW. These women look like they don't stand clear for no closing doors, if you know what I mean.
All of theses looks are giving me so much life right now. Let's break them down:
First, there's Sandra Bullock straight killing it with a Kim K look in an extravagant fur jacket.
The 52-year-old actress takes on the lead role of Debbie Ocean, who assembles this kickass team. It seems likely she's related to the OG Danny Ocean, played by George Clooney.
Next we have Cate Blanchett with the Cruella de Vil vibes. I'm very into it.
Cate plays a character named Lou, and I'm guessing she's Sandra's number two in charge — the Brad Pitt, if you will.
There's Rihanna, looking cooler than anyone else. That head scarf-glasses-jacket combo is everything.
Rihanna's character name is Nine Ball, which is frankly amazing. I'm not sure of her "Ocean's Eleven" equivalent, but I'm really hoping she's the techie.
There's Mindy Kaling, who looks like she about to mess you up right after she touches up her lipstick. I've never been more proud.
Mindy's character's name is Amita.
Next we have Awkwafina peering out from the back of the car, looking like she's about to destroy you in a rap battle.
If you don't know Awkwafina, but she's a badass comedian and rapper from New York City. Her "Ocean's 8" character is named Constance.
There's Queen Helena Bonham Carter, who's gone unusually sleek and blonde.
Her character's name is Rose.
There's Anne Hathaway, who is blatantly disregarding the "Don't Lean On Doors" sign in her bright-green snakeskin jacket.
Anne will be playing Daphne Kluger.
And finally, there's Sarah Paulson, who's making sensible still look pretty badass.
She's playing a character named Tammy.
"Ocean's 8" isn't due out until summer of 2018, but I would like it now. Can I have it now, please? Can that happen?