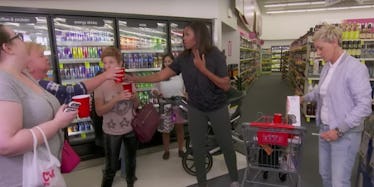 Michelle Obama Drinking Boxed Wine Out Of A Solo Cup Is Literally All Of Us
YouTube
Ellen DeGeneres gave us an awesome insight into what post-presidency life will be like for Michelle Obama.
She took America's favorite first lady shopping in a CVS in a sorority-style initiation to the real world (which Ellen obviously isn't familiar with either, judging by this video).
The duo swanned around aisles picking up random goods, tearing them out of their packaging and generally being the worst kind of customer.
THEN, Michelle stopped to pick up a box of wine (the only way to drink wine).
Neither of them had any idea how to operate the space-aged cardboard and plastic tap, so they enlisted the help of another shopper.
Once they opened it, the pair passed around Solo cups and the image of Michelle holding one is EVERYTHING.
"The Ellen Show" posted the video on YouTube with the caption,
To help prepare the First Lady for life after the White House, Ellen took her to CVS Pharmacy to pick up a few things.
We want four more years of this party animal -- WOOOOOO!