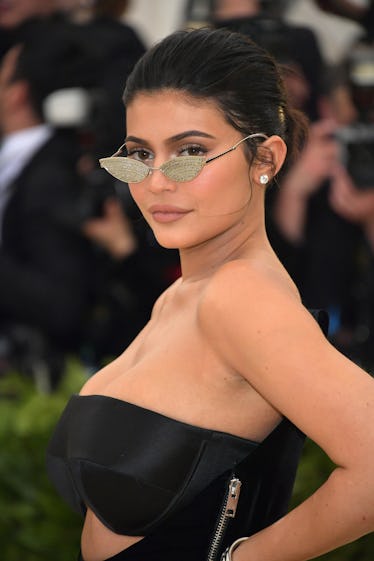 Kylie Jenner Hinted At Future Permanent Kylie Cosmetics Stores IRL & I'm Ready To Stand In Line
Neilson Barnard/Getty Images Entertainment/Getty Images
When I first heard that Kylie Jenner and Travis Scott would be gracing the cover of GQ together in their first official photo shoot as a couple, I was eager to learn more about their fairly private relationship. However, while the interview was chock-full of info about the couple, their relationship, and their baby, I ended up far more interested in hearing about Kylie's other baby: her brand. Sorry, Stormi, but I'm talking about Kylie Cosmetics, and the possibility of Kylie Cosmetics stores coming IRL sometime in the future.
In their GQ cover story, Jenner and Scott are adamant that their relationship works so well because they function both as a unit and as individuals: "...I want him to do his own thing. I want him to be him," insists Jenner. "I don't want it to be Kylie and Trav. If people don't ever see us together, that's okay with me, because we just do our thing."
Firstly, major props to them on this healthy relationship perspective: People should be able to pursue their own passions and follow their own journey, even while in a relationship. And when your journey involves raking in almost half a billion dollars in your cosmetics company's first 18 months in existence, it's easy to see why you wouldn't even consider slowing down.
As a matter of fact, things are speeding up for Kylie Cosmetics, according to GQ's style editor, Mark Anthony Green:
She walks me through plans to open up brick-and-mortar stores for Kylie Cosmetics worldwide: 'I really want to create an experience.' The way she describes it is very coy but extremely fleshed out. I wouldn't be surprised if she broke ground months ago and was just waiting for the perfect time to announce their opening.
I'm sorry, what? You're telling me that, at some point in the (possibly) near future, I could be strutting my way into a Kylie Cosmetics store to selfie and swatch to my heart's content?
I'm so excited, but not surprised. Jenner has positively mastered the online market, so it's no shocker that she wants to take on in-store retail as well. She's already dipped her toes in those waters in the past with both the Kylie Cosmetics Truck and even physical pop-up shops as early as in December 2016 and just recently in May 2018.
With almost all of her collections selling out online during their launches, having more product readily available for customers to purchase in stores just makes sense. I'm a little sad that we didn't get a store in time for the release of her latest Summer Collection, but the thought of shopping in-store one day is exciting nonetheless.
Along with hinting at the possibility of IRL, permanent stores, Jenner also opened up a bit in the interview about why she launched Kylie Cosmetics in the first place. "The reason I got into makeup is it's all about making yourself feel better," she tells GQ. We love a successful, self-love-promoting queen!
One last beauty-related note in their cover story? In a video shot for GQ's YouTube channel, titled "Kylie Jenner Asks Travis Scott 23 Questions," Jenner challenges Scott to name five Kylie Cosmetics products. His guesses? After declaring, "Baby, I don't know sh*t about makeup," he lists the following: a palette (yes), eyeshadow (same thing), mascara (nope), lipstick (yes), lip liner (yes), and the little powder things (also an eyeshadow palette, same thing).
It looks like Scott might need to brush up on the Kylie Cosmetics inventory so he can help Jenner get to launching those stores soon! Also, I wouldn't be mad if she were to release a Scott-inspired eyeshadow palette called "The Little Powder Things." It would definitely sell out at one of the brick-and-mortar stores! Just saying.