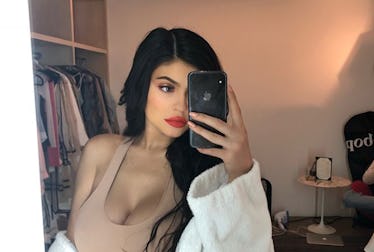 Kylie Jenner Is Making An Unreal Amount Of Money For Her Instagram Ads & WOW
Instagram / Kylie Jenner
Hello to Kylie Jenner's wallet and no one else. New reports just dropped detailing exactly how much the youngest Kardashian sister pockets when she posts an ad endorsement on Instagram, and it's truly one of life's biggest injustices. According to social media insights firm D'Marie Analytics, Kylie Jenner makes $1 million per Instagram post. It makes me feel sick to my stomach and also laugh hysterically at the same time. (???)
Here's what D'Marie says: Jenner has grown "her ad equivalent value to over $1 million per post across her social media portfolio." So, if you see a post that says #sponsored or #ad on it, you now know it's worth one million George Washingtons. The firm also calls Jenner "the highest-valued influencer currently on social media today." (Just as an FYI, it used to be Queen Beyoncé. So, yeah. It's a big deal.)
Obviously, Jenner is the ideal celebrity endorser for any product thanks to her extreme following. She can literally put any one item in front of millions of eager consumers dying to know what she likes, uses, buys, etc. and it will turn into literal gold. In 2016, she was the most followed person on Snapchat, and People reports she's averaged 25,530 new followers per day since April 1, 2018 across all of her social media accounts. Snapchat aside, People says she has 154,775,091 followers spanning her Facebook, Twitter and Instagram accounts.
It's... overwhelming.
Just some of the products Jenner's gotten behind include Fit Tea Wraps, Sugar Bear Hair Vitamins, and waist trainers. Her captions are always fairly straightforward — and honestly? — are almost definitely written by someone else. Surely, she has a very specific contract with the products she endorses, requiring her to mention certain features and details.
For example, as part of the #waistgang society, Jenner wrote a detailed post using different language and vocabulary than what her die-hard fans probably are used to. That #ad caption went like this:
my girl @premadonna87hooked me up with the @waistgangsocietysnap back package. #ad waistgang has the BEST quality snap back products. make sure you get your package & follow @waistgangsociety to join & keep up the journey together. tag us in photos, and head over to www.whatsawaist.com NOW! Use code (Kylie) for an exclusive discount & I can keep up with your progress ‼️ #waistgangsociety#waistgang#fitness#whatwaist#whatsawaist.com
In just skimming this caption, it's easy to identify the endorsement specifications like the hashtags and tagging. (Plus, and I'm just saying, when have you guys ever known Kylie to capitalize anything?)
Frank Spadafora, D'Marie Analytic's CEO, said in a press release, "Kylie is an undeniable brand, which may make some roll their eyes." He added, "But the reality is this young, female entrepreneur's savvy helped her reach a milestone in the influencer marketing and advertising industry which many seasoned professionals have failed to achieve."
Spadafora expanded,
Influencer valuations move up and down like the stock market, but Kylie is methodical about consistently generating aspirational content for her social audience, without jeopardizing authenticity. Her use of social media to personally connect with and listen to her fans enables her to deliver products they will actually purchase. This is a true case study for how brands can greatly benefit from working with social media influencers like Kylie.
The word "aspirational" feels like a little bit of a stretch, but there's no denying the girl has epic consumer reach.
Now, if you guys need me, I'm eating #cheese alone on my #ikeacouch in my #target underwear. #Notanad #Justkiddingpayme.
Check out the entire Gen Why series and other videos on Facebook and the Bustle app across Apple TV, Roku, and Amazon Fire TV.