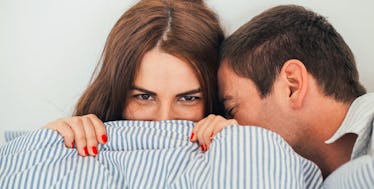 Why You Can't Resist Beautiful Makeup Packaging (And Why You're Not Alone)
Stocksy
"Budgets were made to be broken" is the credo I always rattle off inwardly before slipping yet another item into my shopping basket.
As a relatively recent college graduate to whom steady paychecks still seem like a surprise, I've learned to plan thrifty meals and bargain clothing buys.
The one thing I cannot resist, however, is a beautiful box of makeup.
Drawn to glittering palettes the way Donatella Versace is surely pulled toward boxes of platinum hair dye (and extremely high-cost salon visits), I just can't look away from a modern-looking font or inviting Instagram ad campaign.
If a product pops up on beauty blogs, it won't be long before I find an excuse to add it to my Sephora cart.
Unlike this season's hot trend – here's looking at you, fringed bags – makeup is a timeless investment. In every product, art meets wearable design.
Unlike the $550 Apple Watch, however, a cosmetic product means more than just bragging rights to the hottest item in tech.
A new palette is a chance to hone my cosmetic technique, usually with the help of /r/makeupaddiction. Instead of plain-Jane cat eye, I can use my new Kohl Pencil to perfect a Korean puppy eye or Elizabeth Taylor's smoldering Cleopatra.
Kohl Pencil, $10, Sephora 
Curious to know why I'm so happy to hand over my credit cards at beauty supply stores all over town, I contacted two brands making waves for their designs: Hourglass Cosmetics, responsible for the knockout Modernist Eyeshadow Palette, and OPI, the brand we all know for their must-have nail color collections each season.
Hourglass Cosmetics Modernist Eyeshadow Palette, $58, Sephora 
Beautiful products, it seems, are a result of a two-part magic combination: a high-quality cosmetic product, cleverly planned package and skillful marketing. Because if you're drawn to a product, these teams have done their job correctly.
A must-have product means a focus on the woman wearing it.
In order to create a truly standout beauty product, both Hourglass Cosmetics and OPI shared the importance of knowing their customers' taste.
The Modernist Palette is sleek and minimalist with "luxurious" finishes in order to catch the eye of the ideal Hourglass woman, whom Vice President of Marketing Christina Okubo dubs "independent and on-the-go" while depending on cosmetics to "enhance and make her life easier."
Conversely, OPI tailors lacquers names to bring fun and liveliness to every drugstore aisle. Lacquer naming meetings, a closely-guarded affair, involve fewer than 10 staff members from different levels of the company.
They pick a theme for the evening, whether that's a destination like fall's "Nordic" collection or this spring's "Hawaii" shades, and order food to match, reports OPI Executive Vice President Suzi Weiss-Fischmann.
OPI polishes, named in an evening of food and laughter, reflect a cosmopolitan, youthful customer.
To catch a customer's eye, think outside the beauty box.
At the most basic level, beauty products have to catch the eye of shoppers skimming rows of lookalike brands.
When it came to the Modernist Palette, available in shades like "Graphite" and the earthy "Osbcura," Okubo says Hourglass set out to revamp the smokey-eye experience.
Metallic-covered palettes, inspired by artists' paints, make blending multi-shade looks an easy task.
Okubo elaborated on the design process, explaining,
Given that we wanted to create a very fluid, continuous customer experience, we looked to organic and geographical shapes for inspiration, such as water and sand.
While Hourglass tailors its dreamy brand for an ideal woman, OPI works from trends happening on the runways and in pop culture.
According to Weiss-Fischmann, the secret to eye-catching lacquer names lies in adding a sense of humor to situations both real and imagined.
She told Cosmopolitan,
In 2006, we had the OPI Mexican collection color, and My Chihuahua Bites! — a bright orange polish that earned its name because the weekend before, I was bit by a chihuahua. Ouch! Not the best story, but a great name and polish certainly came out of it.
OPI My Chihuahua Bites, $9, Target 
For those who love them, beauty products are an investment in creativity.
Weiss-Fischmann and Okubo, executives at two very different cosmetic brands, both share a desire to provide their beauty-loving customers with products exciting enough to create those shopping butterflies in your stomach as you wait to receive your order.
Although budgets are important, a sense of joy and creativity is equally so.
Whether picking up a new nail polish or blending an eyeshadow shade you've never tried before, rest assured it's been tailored for you by people who love trying new products just as much as you do.
Hold your head high, beauty enthusiasts, and shop on.