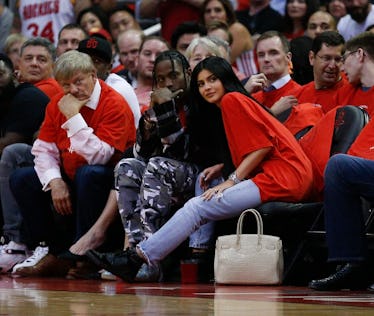 Travis Scott Wished "Wifey" Kylie Jenner A Happy Birthday With This Cute AF Post
Bob Levey/Getty Images Sport/Getty Images
Hello, where can I find a Travis Scott? Asking for a friend (*cough cough*). On Aug. 10, his girlfriend, makeup mogul Kylie Jenner, turned the big 21, which created the perfect opportunity for the Astroworld rapper to get extra lovey-dovey and go all out for Jenner — and he really outdid himself. He gifted her with an all-white, vintage Rolls Royce and woke her up to hundreds of gorgeous pink flowers, but it's Travis Scott's birthday post to Kylie Jenner, specifically, that's the cutest, smushiest thing that went down on her special day.
Even though the parents to six-month-old baby Stormi have been dating for a little more than a year, Scott often remains quiet about his romance with Jenner. But on Aug. 10, he got really candid about his love for the lip kit creator on Instagram, sharing a never-before-seen picture of them posing on a private jet along with a sweet caption, in which he called Jenner his "wifey." The post read:
Happy bday wifey I love u mommy u my heart rib toes and all. May GOD continue to bless u and ur spirit. This mark in ur life is the start to more greatness
Aww! I love this, especially because their outward displays of affection are so far and few. Jenner was (of course) equally smitten by Scott's post, replying, ""Baby!!! I love you!" with a heart emoji.
Her royal treatment didn't stop there, though. Earlier that morning, Scott showered Jenner with several bouquets of flowers, planted perfectly outside of her house, which she described on her own Instagram page as a "fairytale." The 21-year-old was also gifted with a vintage Rolls Royce, which Scott presented to Jenner in her driveway with a big red bow on its grill, according to People.
"Mommy's new gift! I love you mommy, Stormi," the "Butterfly Effect" rapper said in a video shared on his Snapchat account.
BRB — replying to my Tinder matches in search of my very own Travis Scott.
In all seriousness, though, this is all just one of the latest updates that truly show how strong these two are going, and I'm living for it. Before Jenner's birthday, the duo was also featured on the cover of GQ magazine, where they played a game called "The Kylie Quiz" — which was filled with tons of questions to basically see how well Scott knows his gal pal. He, admirably, crushed the quiz, scoring 20 out of 23. The only questions he got wrong were the names of Jenner's dogs (fair game 'cause she has millions of them: Norman, Bambi, Harley, and Rosy), her definitive number of tattoos (again, fair game. She has like, five?), and her parents' birth names (Kristen and William). Aside from that, he killed it.
At the end of the video, Jenner affectionately sits on Scott's lap and wraps her arms around him, cooing, "You did really good. I love you."
Fast forward to the present, and it looks like Scott took everything he knows about Jenner and created the perfect birthday celebration for her. Wow, I think I love him, too.