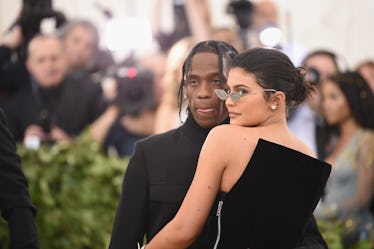 Kylie Jenner's IG Birthday Post Showed Off The Sweetest Gift From Travis Scott
Jason Kempin/Getty Images Entertainment/Getty Images
If you've ever attended one of my birthday parties, they usually tend to consist of tequila shots, some spicy tacos, and, of course, all of my friends. And I'd just like to say that 100 percent of the time, my birthdays are super successful. As you'd imagine, the Kardashian-Jenner family birthday celebrations are pretty much on another level. In addition, the family also knows how to give very good birthday presents. So, if you haven't already seen Kylie Jenner's 21st birthday Instagram post, get ready to be very jealous of the lip kit maven's birthday haul.
In case you didn't know, Kylie Jenner's 21st birthday was on Friday, Aug. 10. In posts shared to her Instagram on Friday night, it looks like Jenner's birthday started out quiet and casual. She began with a little family celebration with boyfriend Travis Scott, as well as their six-month old daughter, Stormi, per her Friday Instagram Story. The fam had a little dance party together, and it was straight-up adorable.
Scott started out by gifting Jenner with several giant bouquets of flowers, according to People, and it was honestly so thoughtful. Jenner's Instagram post literally calls it a fairytale, because what's better than being surrounded by giant spheres of gorgeous flowers? It's kind of a dream come true. Anyway, the star was also gifted a Rolls Royce, according to People. Yes, you heard that correctly. The car was a classic white, with a big red bow on the grill. Just look at her Instagram post — you'll be beyond jealous.
In terms of nighttime festivities, Jenner threw a wild bash at a trendy Los Angeles night club called Delilah, and it was so wild that it reportedly got shut down. Yep, it lasted it lasted past the city's 2 a.m. closing time, because even celebs' parties get busted.
Per Harper's Bazaar, the party was Barbie-themed, and there was reportedly a Barbie-themed cake, which looked out of this world. Guests were given solo cups which either labeled them as "single," "taken," or "complicated," according to Page Six. There was also a rumored ball pit, as well as gummy bear shots. Like, am I jealous? Maybe a little bit. But, let's be real: all I really needed for my 21st birthday was a lot of wine to go around, the opportunity to get carded, and, of course, my gal pals. Regardless, Jenner looked like she had a kick-ass time.
If you haven't seen what Jenner looked like at her birthday, her aesthetic was straight up gorgeous. She started out in a hot pink cerise cut-out dress, and she later changed into a custom LaBourjoisie jumpsuit. The jumpsuit was sparkly (perfect for a birthday bash!), but it was also not too over-the-top. Her hair was up in a casual pony, and her makeup was, of course, flawless. The bottom line is that the mother of one looked like a freakin' goddess, and now that she's 21, she can basically rule the world.
Jenner celebrated her boyfriend, Travis Scott's 26th birthday, on April 28, 2018, and his celebration was pretty much equally epic to hers. To celebrate, Jenner rented out an entire Six Flags theme park for a night. Yes, you heard that correctly, and Kylie's sisters, Kendall Jenner, Kim Kardashian, and Kourtney Kardashian, as well as longtime BFF, Jordyn Woods, came along too. Jenner posted a ton of epic photos and videos to her Instagram Story, which showed the park entirely lit-up, without any lines, at all. It was honestly so damn cool, and if my 26th birthday is half as rad as that, I'll be pretty dang pleased with myself.
I'll be honest, I always thought I knew how to throw a proper banger, but I'm clearly an amateur. The Kardashian-Jenner crew obviously rules the world of parties, and no matter how hard I try, I'll never be able to top Jenner's 21st. Regardless, I'm sending all of the best birthday wishes Kylie's way!