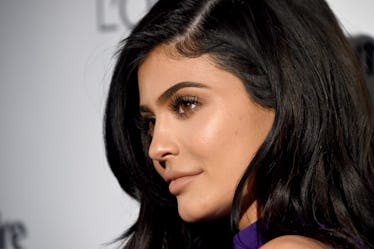 Kylie Jenner Rented A Six Flags For Travis Scott's Birthday & The Photos Are Gold
Frazer Harrison/Getty Images Entertainment/Getty Images
Ever sit down and think about everything you could do with a boatload of cash? Well, Kylie Jenner just thought of a new way to spend some dough on her man. In honor of Travis Scott's birthday, Jenner rented out an entire amusement park for him, and Kylie Jenner's photos of Travis Scott's birthday at Six Flags are pure gold.
According to Jenner's Instagram stories, on Saturday, April 28, Jenner rented out the popular Six Flags amusement park for a night to celebrate her boyfriend — and father to nearly 3-month old daughter Stormi — Scott's 26th birthday (which is actually on April 30, but hey). Jenner also brought along her sisters Kendall Jenner, Kim Kardashian, Kourtney Kardashian, and best friend Jordyn Woods, so they could all join in on the fun. Jenner posted a series of photos and videos to her Instagram stories for all her fans to swoon over the lit-up park with no lines at all. Ever think of how much more fun amusement parks would be if you didn't have to wait in line with a bunch of strangers? Also, Jenner has given me an idea for when I finally have a ton of cash to burn and want a girls' weekend.
On one particular photo, Jenner "Rented out Six Flags for baby's birthday... they've never been."
Here's a photo of the gang getting ready to take a spin on a rollercoaster, hope it was fun you guys.
Now this next photo is my absolute favorite, because what's more extravagant than a giant rollercoaster cake with life-like fondant figures of you, bae and your child enjoying the ride (although I don't think babies are actually allowed on rollercoasters)? It's a pretty sweet cake, it looks gorgeous, and I just can't get over how cute it is that Jenner put herself, Scott, and Stormi on it.
Here's closer look at the happy family on the rollercoaster. Look how adorable little Stormi looks with her pacifier? And, also, I must point out that Jenner's fondant hair is on fleek.
I can only imagine that being new parents isn't the easiest (although it's probably a little easier for celebrity moms and dads), but it's nice that Jenner and Scott are keeping the fun times (and the romance) alive.
Speaking of romance, the new mommy and daddy found some time to sneak in a date night to a Houston Rockets game. On April 25, Jenner and Scott were spotted courtside on a date during a trip to visit Scott's family in Houston.
Here's a photo of Jenner flashing a cute smile while Scott and that dude next to him look very into what's going on during the game.
Jenner and Scott welcomed daughter Stormi into the world on February 1 after much speculation from fans as to whether Jenner was/wasn't pregnant. Then, after tedious waiting, on February 4, Jenner announced on Instagram that she had given birth to a baby girl three days prior, giving fans some much-needed validation. She apologized for keeping fans in the dark, and shared how she wanted to keep her pregnancy journey out of the spotlight. She wrote.
I'm sorry for keeping you in the dark through all the assumptions. I understand you're used to me bringing you along on all my journeys. My pregnancy was one I chose not to do in front of the world. I knew for myself I needed to prepare for this role of a lifetime in the most positive, stress free, and healthy way I knew how. There was no gotcha moment, no big paid reveal I had planned. I knew my baby would feel every stress and every emotion so I chose to do it this way for my little life and our happiness. Pregnancy has been the most beautiful, empowering, and life-changing experience I've had in my entire life and I'm actually going to miss it. I appreciate my friends and especially my family for helping me make this special moment as private as we could. My beautiful and healthy baby girl arrived February 1st and I just couldn't wait to share this blessing. I've never felt love and happiness like this I could burst! Thank you for understanding.
Thankfully all the speculation has stopped, and now all that headspace is freed up for us to decide which pictures of Stormi are the cutest — who are we kidding? They're all the cutest. Hopefully we will get more Stormi snaps, and if there's any more extravagant parties (which we know there will be) for members of the Jenner/Kardashian crew (and outer circle) I hope we're in the loop. Oh — and maybe an invite next time, huh, Ky?