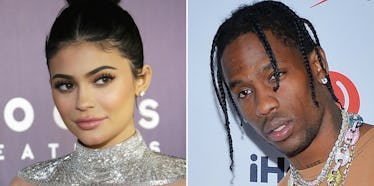 Kylie Jenner & Travis Scott Had A Date Night & It Has A Special Meaning
Loreen Sarkis/Sam Wasson/Getty Images
Kylie Jenner and Travis Scott have been together for about a year now, and what a year it has been. The couple was only together for a couple of months before Jenner got pregnant with baby Stormi, and having a baby together has reportedly made Jenner and Scott closer than ever. They celebrated a bit of an anniversary on Wednesday, April 18. The couple had their first public date at a Houston Rockets game on April 25, 2017, and these photos of Kylie Jenner and Travis Scott at a Houston Rockets game on April 18, 2018 will have you feeling all the nostalgic feels.
Jenner and Scott, after spending the weekend at Coachella partying with tons of celebs (like Jenner's ex, Tyga... yikes), went to Houston, where Scott's family lives, for a little trip with Stormi. Jenner posted a bunch of stupidly adorable videos of Stormi to her Snapchat story earlier in the day, but we'll get to that later. First, a stroll down memory lane.
April 25, 2017: Kylie Jenner and Travis Scott have their first public date at a Houston Rockets game.
Jenner had recently broken up with Tyga after two years of dating, and this date with Scott was the first public date she went on that sparked relationship rumors between her and Scott. And it's not just the Houston Rockets date they replicated in honor of this anniversary. Nope, they also attended Coachella 2017 together. According to People, Jenner and Scott were seen at Jeremy Scott's Moschino x Candy Crush party on April 15, 2017. A source told the outlet at the time,
Kylie and Travis made their way to a private table, where they were joined by friends and enjoyed the deejay. After five minutes of being in a very crowded space, Travis got up and left the table, and Kylie followed him out with her friends following close behind her.
So, this whole partying at Coachella then going on a trip to Houston thing may be a tradition for the couple. The only difference is one year and a baby.
That brings us to April 18, 2018: Kylie Jenner and Travis Scott sit courtside at a Houston Rockets game.
I bet Jenner is scrolling through her pictures of Stormi in this pic.
Here she's like, "Girl, whatchu doin' on your phone? You're on a date!"
Pre-baby, post-baby. What a difference a year makes.
Bob Levey/Getty Images Sport/Getty Images
Bob Levey/Getty Images Sport/Getty Images
Is it just me, or does Jenner look legitimately older in that second photo? I know only one year has passed, but you could tell me that five years have passed between those two photos being taken and I would believe you. Homegirl is looking matured AF.
But let's talk about Stormi. Kylie Jenner posted the cutest videos ever of baby Stormi and I don't know how much more of these I can take.
Are we kidding with this face?
I repeat: Are. We. Kidding?
PLEASE TELL ME WE'RE KIDDING WITH THIS.
Stormi Webster is the cutest freaking baby I ever did see. (Other than my niece, she's the OG. Shout out to Lottie!)
Jenner has been posting a boatload of pictures and videos of Stormi ever since confirming her birth on Feb. 4. I'd say this is the perfect way to make up for keeping us "in the dark" throughout her pregnancy.
It read,
I'm sorry for keeping you in the dark through all the assumptions. I understand you're used to me bringing you along on all my journeys. My pregnancy was one I chose not to do in front of the world. I knew for myself I needed to prepare for this role of a lifetime in the most positive, stress free, and healthy way I knew how. There was no gotcha moment, no big paid reveal I had planned. I knew my baby would feel every stress and every emotion so I chose to do it this way for my little life and our happiness. Pregnancy has been the most beautiful, empowering, and life-changing experience I've had in my entire life and I'm actually going to miss it. I appreciate my friends and especially my family for helping me make this special moment as private as we could. My beautiful and healthy baby girl arrived February 1st and I just couldn't wait to share this blessing. I've never felt love and happiness like this I could burst! Thank you for understanding.
It's all good, Kylie. Just keep on posting photos and videos of Stormi Webster and we'll call it even.