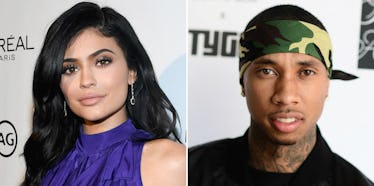 Kylie Jenner & Tyga Were At The Same Coachella Party & OMG, Yikes
Matt Winkelmeyer/Dave Kotinsky/Getty Images
Kylie Jenner and Travis Scott had a weekend away from baby Stormi at Coachella this past weekend. On Friday, April 13, Kylie Jenner, Kourtney Kardashian, Travis Scott, and lots of other celebs attended the same Coachella party, but you know who else was there? Tyga. As in Kylie's ex Tyga. As in Kylie's serious boyfriend before she started dating Travis Scott and had a baby Tyga. Kylie Jenner and Tyga's Coachella run-in had to have been the most awkward thing on the planet. I'm trying to imagine how it all went down, and I literally can't think of any scenario in which this wouldn't be awkward? Did they say hi? Did they completely ignore each other? Was Travis Scott staring at Tyga the entire time to make sure he didn't come over and talk to Jenner? I have so many questions.
We already knew Jenner, Scott, Kourtney Kardashian, Nicki Minaj, Chance The Rapper, The Weeknd, Timothée Chalamet, Shania Twain, and lots more celebs were partying together that night thanks to videos and photos Nicki Minaj posted on Twitter on Friday, but The Daily Mail reports Tyga was also at the same party, and that's just all kinds of yikes. (The Daily Mail also claims that Tyga was there with Iggy Azalea — his rumored girlfriend. And I'm sorry, what? When in the living hell did this happen?) Jenner and Tyga reportedly didn't interact with each other at all, however. They apparently kept to their group of friends and didn't acknowledge each other all night.
Nicki Minaj posted the most star-studded selfie video I ever did see during this party. It seems to be the exact party where Jenner and Tyga had their unplanned (and probably unwanted) reunion.
She also posted this equally star-studded group photo to Instagram on Friday, April 13. Jenner and Kardashian didn't make it into this one, but Shania Damn Twain and Timothée Chalamet did. What a night. What a group.
Also, is Shania Twain wearing a hoodie in this picture?! Like, did she seriously roll up to a Coachella party in sweats?! I didn't stan before, but I'm stanning now.
This whole Kylie Jenner and Tyga run-in is hella awkward because just weeks before Coachella 2018, Tyga posted a tweet that many fans felt was about Kylie Jenner and baby Stormi.
The tweet read,
I've never said anything about someone else's child or family insinuating my involvement; and will never do so. Please, Stop spreading false stories and attacking people's families. I have nothing to do with any of that. People should be able to live in peace.
Fans think Tyga tweeted this as an attempt to dispel rumors that claimed he thought he was Stormi Webster's biological father. Elite Daily reached out to Tyga's team for confirmation that the tweet is about Kylie Jenner but did not hear back by the time of publication. Elite Daily also reached out to Kylie Jenner's team for comment but did not hear back by the time of publication.
When news of Jenner's pregnancy first broke in September of 2017 (the reports remained unconfirmed until Feb. 4, when Jenner announced the birth of baby Stormi), Tyga reportedly posted a Snapchat that fans felt was cryptic AF. The since-deleted alleged post was a screenshot of an article about Jenner's baby news with the caption, "Hell nah that's my kid." It's not clear whether the Snapchat was actually posted to Tyga's Snapchat story or if it was a doctored image that made a lot of rounds on the internet. Elite Daily reached out to Kylie Jenner's, Travis Scott's, and Tyga's teams for comment after this reported Snapchat surfaced, but did not hear back by the time of publication.
Ever since that Snapchat, many fans thought there was reason to believe Tyga was Stormi's father, but Kris Jenner herself said there's no truth to the rumors. Whatever the truth is, there's no way in hell that things didn't get hella awkward the moment Kylie and Tyga realized they were at the same party. Coachella brings people together whether they like it or not.