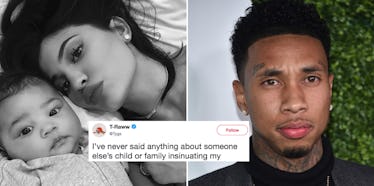 Tyga May Have Just Broken His Silence About The Rumors He's Kylie Jenner's Baby Daddy
Instagram/Mike Windle/Getty Images/Twitter
Tyga has reportedly had enough with the rumors saying he's Stormi Webster's father. He tweeted on Monday, March 26, to seemingly shut down those rumors once and for all in a tweet that shows a lot of respect for Kylie Jenner. Tyga's tweet, reportedly about Kylie Jenner's family, shows he's done with this rumor mill and wants everyone on the internet to be done with it as well. Elite Daily reached out to Tyga's team for confirmation that the tweet is about Kylie Jenner but did not hear back by the time of publication. Elite Daily also reached out to Kylie Jenner's team for comment but did not hear back by the time of publication.
Tyga tweeted on Monday, March 26,
I've never said anything about someone else's child or family insinuating my involvement; and will never do so. Please, Stop spreading false stories and attacking people's families. I have nothing to do with any of that. People should be able to live in peace.
Kylie Jenner has never commented on the rumors of Stormi's parentage herself. Her and Travis Scott's video announcing the birth of Stormi (titled "To Our Daughter") made it clear that Scott was there with Jenner through every step of her pregnancy, and the couple is reportedly doing well and loving life as new parents to baby Stormi, as Jenner's best friend Jordyn Woods told People. According to People, Scott and Jenner don't live together as of yet, but that could change in the future. Or it couldn't. Who knows?
One thing Tyga knows is that he wants out of this rumor mill.
Is it just me, or does this tweet make it sound like Tyga's trying to make sure Jenner sees it? Maybe the exes are no longer in communication but he wanted to publicly show he's not the one spreading these rumors about her and Stormi. Or maybe it's not that at all, Tyga and Jenner are on good terms, and he's just sick of the rumors. I'd say both are possibilities.
Some fans aren't buying Tyga's tweet.
Other fans are applauding him.
Kris Jenner recently shot down the rumors about Tyga in an interview with Australian radio show Kyle and Jackie O on March 11. Kyle, one of the show's hosts, said in the interview, "Tyga was chiming in saying maybe it was his baby." Jenner responded, "Oh no, no, no. I think that was just a bunch of silly rumors as usual," adding, "Yeah you guys know better than that."
"Tyga chiming in" was most likely referencing the Snapchat Tyga reportedly posted when rumors of Jenner's pregnancy were first reported back on Sept. 22, 2017. The rumors of her pregnancy weren't confirmed then, but of course we learned the reports were accurate when Jenner confirmed her pregnancy and the birth of baby Stormi on Feb. 4.
When rumors of Jenner's pregnancy first broke, Tyga reportedly posted a cryptic Snapchat reacting to the news. The alleged post (which was deleted) to his Snapchat story featured a screenshot of Jenner's baby news with the caption, "Hell nah that's my kid." Elite Daily reached out to Kylie Jenner's, Travis Scott's, and Tyga's teams for comment after this reported Snapchat surfaced, but did not hear back by the time of publication. All of the reports of Jenner's then-unconfirmed pregnancy claimed Travis Scott was the father, so this was confusing for sure.
Fans were super confused about Tyga's reported Snapchat since he and Jenner had been broken up for months by the time her pregnancy news broke.
Fast-forward six months, and now Tyga is saying he has "never said anything about someone else's child or family insinuating" his involvement. Let's all just trust Kylie Jenner and Travis Scott when they say they are the parents of Stormi Webster because, quite frankly, it's none of our business. And Tyga wants us to back off too, so...