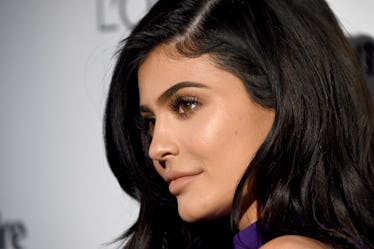 Kylie Jenner's Latest Snapchat With Stormi Proves This Cutie Doesn't Need A Filter
Frazer Harrison/Getty Images Entertainment/Getty Images
I don't know about y'all, but nothing quite brightens up my day like a glimpse of a celebrity baby. Luckily for me, Kylie Jenner's latest Snapchat with Stormi is exactly what I need to get over this middle of the week slump. This cutie is almost too much to handle.
It looks like new mom Kylie Jenner might be getting a bit more comfortable sharing photos of her little girl's life, and I couldn't be any more pumped. On April 18, Jenner took to Snapchat to share a few precious photos of little Stormi Webster, a long with a few filters that really bring out her cuteness.
I may be a fan of the #nofilter movement from time to time, but these pictures prove that Stormi Webster can pull off literally any look. What a queen. On that note, I may be looking too much into this, but the filters used in the photos seem to perfectly compliment Stormi's parents' aesthetics. After all, those pink ears and nose basically scream Kylie Jenner and the flames used in the other pictures have to be a salute to Travis Scott.
Think I've gone off the deep in with my Stormi Webster expert Snapchat analysis? You look at these photos and try not to obsess, too.
Be still my heart. Even though Kylie Jenner may have thrown some shade at the photo sharing app via a tweet in February, which might have actually caused Snapchat to lose $1.3 billion in market value, it looks like Jenner might actually be way more into the app than she used to be.
BRB investing in Snapchat shares right now to secure future Stormi photos.
Thankfully we haven't been denied Stormi photos for too long. On April 5, Jenner shared a photo via Instagram story of Stormi sleeping in her stroller while out on a nice mother-daughter walk. Plus, on April 1, we got a sneak peak of Stormi's first Easter, and seeing her wrapped up in both of her parents arms seriously makes me want to weep.
We may have been denied witnessing Kylie Jenner's pregnancy, but the makeup guru is certainly making it up to us through these photos she's been sharing. I can't lie, I'm still a little salty that she kept her pregnancy from us, but I guess I can understand.
On Feb. 4, Jenner announced via Instagram that she had given birth to Stormi Webster three days prior on Feb. 1. She apologized to her fans for the secrecy, but admitted she wanted to enjoy this experience out of the public eye. TBH I can't blame her.
She wrote,
I'm sorry for keeping you in the dark through all the assumptions. I understand you're used to me bringing you along on all my journeys. My pregnancy was one I chose not to do in front of the world. I knew for myself I needed to prepare for this role of a lifetime in the most positive, stress free, and healthy way I knew how. There was no gotcha moment, no big paid reveal I had planned. I knew my baby would feel every stress and every emotion so I chose to do it this way for my little life and our happiness. Pregnancy has been the most beautiful, empowering, and life-changing experience I've had in my entire life and I'm actually going to miss it. I appreciate my friends and especially my family for helping me make this special moment as private as we could. My beautiful and healthy baby girl arrived February 1st and I just couldn't wait to share this blessing. I've never felt love and happiness like this I could burst! Thank you for understanding.
We forgive you Kylie, as long as you keep those photos of Stormi coming.