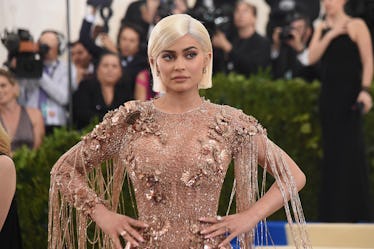 Kylie Jenner's Pictures Of "Sleepy Stormi" On A Walk Are Just Too Precious
Nicholas Hunt/Getty Images Entertainment/Getty Images
I have good news for fans of both the Kardashian/Jenner clan, and adorable babies. New mom Kylie Jenner just took daughter Stormi out for a little stroll, and Kylie Jenner's photos of Stormi sleeping are so adorable, I could cry. Hold on, hold on, I'm getting my emotions in line. We don't get blessed with this much cute every day, after all.
On Thursday April 5, after some pics of Kylie Cosmetics "Shook Velvet" Lip Kits (they're back in stock by the way, you're welcome), Jenner shared some adorable new photos of 9-week-old baby Stormi Webster on a walk, all snuggled up in a pink blanket. The first photo, where Stormi is still awake, was captioned with "walk w mommy & daddy." But by the second photo that adorable little face baby is out cold, "Sleepy Stormi," Jenner writes.
Folks, she's so damn cute. Also staring at these pictures is making me really sleepy. Stormi just looks so comfy in her carseat, how much for someone to carry me around like that all day?
Jenner and boyfriend Travis Scott welcomed their new addition on Feb 1, after what seemed like an eternity of speculation from fans as to whether Jenner was pregnant at all, or just posing extremely weirdly for photos. Fans started to be suspicious back in September 2017, but neither Jenner, Scott, or anyone from the Kardashian/Jenner clan said anything about the rumors. They didn't even give us any hints.
Well, now we know. And I for one am super grateful that Jenner's given up on her social media hideaway kick, and is sharing all the pics of her little bundle of joy.
After months and months (and months) of the "is she/isn't she" debate, on Feb. 4, Jenner announced on her Instagram that she had given birth three days prior. She apologized to her fans for keeping her pregnancy a secret, but shared that it was a journey she wanted to have out of the public eye. She wrote.
I'm sorry for keeping you in the dark through all the assumptions. I understand you're used to me bringing you along on all my journeys. My pregnancy was one I chose not to do in front of the world. I knew for myself I needed to prepare for this role of a lifetime in the most positive, stress free, and healthy way I knew how. There was no gotcha moment, no big paid reveal I had planned. I knew my baby would feel every stress and every emotion so I chose to do it this way for my little life and our happiness. Pregnancy has been the most beautiful, empowering, and life-changing experience I've had in my entire life and I'm actually going to miss it. I appreciate my friends and especially my family for helping me make this special moment as private as we could. My beautiful and healthy baby girl arrived February 1st and I just couldn't wait to share this blessing. I've never felt love and happiness like this I could burst! Thank you for understanding.
Two days later, on Feb 6, Jenner gave us the gift of the first baby photo. The picture showed Jenner's thumb (painted with pink nail polish because she just had a baby girl so, duh) and a teeny tiny little baby hand squeezed around it. Then in the corner of of the photo is just the slightest little peek at Jenner's new bundle of joy. Not only was it the first shot fans got to see of the newest edition to the Kardashian/Jenner family, but that post was captioned with the baby's name (finally): Stormi Webster. I forgot, there was also a little angel emoji.
Honestly, I'm really happy for Jenner. It looks like she is really loving motherhood and that her and Scott have adjusted quite well, and are enjoying the adventure that is parenting. I mean, I think it's already a given that Jenner won't deprive her beloved fans of more baby pics. But as of right now, I'm putting in a formal request for "Sleepy Stormi" to make another appearance. Thanks in advance, Kylie.