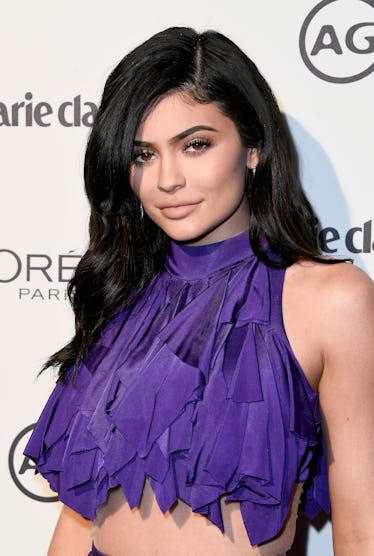 Someone Started A GoFundMe To Raise The Money Kylie Jenner Needs To Be A Billionaire & Wow
Frazer Harrison/Getty Images Entertainment/Getty Images
According to Forbes magazine, Kylie Jenner is worth $900 million. At 20 years old, she's already on track to become the youngest billionaire ever. Well, social media star Josh Ostrovsky, AKA The Fat Jew, appears to think that Jenner being $100 million shy of being a billionaire is simply unacceptable. And that's why he set up this Kylie Jenner GoFundMe page to make sure his fellow social media star becomes a billionaire as quickly as humanly possible.
Jenner was named one of Forbes' 60 Richest Self-Made Women and she graced the cover of the magazine. After Jenner's Forbes cover was revealed on Wednesday, July 11, people took to social media to express their frustration at her being called "self-made". Plenty of people took issue with this since Jenner has obviously been aided in her success by her mom Kris Jenner and her very famous siblings.
But Josh Ostrovsky, who's a comedian known for trolling and posting memes on his über popular Instagram, wanted to make sure Jenner reached that historic wealth milestone. So, he set up a GoFundMe page to make sure it happens sooner rather than later.
Here's what the campaign description on the GoFundMe page said:
Kylie Jenner was on the cover of Forbes Magazine today for having a net worth of 900 million dollars, which is heartbreaking. I don't want to live in a world where Kylie Jenner doesn't have a billion dollars. WE MUST RAISE 100 MILLION DOLLARS TO HELP HER GET TO A BILLION, PLEASE SPREAD THE WORD, THIS IS EXTREMELY IMPORTANT
Ostrovsky is a social media personality and comedian who has over 10 million followers on Instagram. But even that kind of reach can't help Jenner achieve a billion dollar net worth. The GoFundMe campaign set up by Ostrovsky has barely earned any money despite the controversial media coverage of Jenner's Forbes cover.
GoFundMe aside, it's amazing that Jenner has amassed such a fortune in such a short amount of time. The 20-year-old launched her cosmetics company Kylie Cosmetics just two years ago, in 2016. And already, she's earned nearly a billion dollars. The cosmetics mogul credits her success to social media, which is undoubtedly responsible for the sheer amount of reach she has.
"Social media is an amazing platform," Jenner told Forbes. "I have such easy access to my fans and my customers."
She also credits her success with her need to feel confident, which is where the idea for Kylie Cosmetics stemmed from in the first place.
"Ever since I was in sixth grade, I would wear purple eye shadow," Jenner said in her Forbes feature story. "I turned to makeup to help me feel more confident."
And now she's helping others feel confident with her products, which include her famous lip kits.
Jenner even mused about passing her cosmetics empire down to her daughter, Stormi Webster. "Maybe one day I'll pass this on to Stormi, if she's into it," she said.
That would be something, wouldn't it? How interesting it would be to see little Stormi grow up and follow in her mama's footsteps. It's nice to know that Jenner is looking toward the future, though, where her legacy will live on through her kid.
She's a lot smarter than the world probably thinks she is, and that's always an interesting thing to navigate. Jenner is literally making history all while the world underestimates her ability to do anything.
Even people on Twitter are noticing this.
"We can laugh at this family all we want and think they're airheads," one person wrote, "One thing is they're smart, savvy and laughing all the way to the bank."
That they are! Jenner has really shown herself to be a savvy businesswoman, who shouldn't be taken at face value.