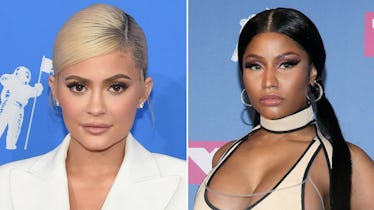 This Video Of Kylie Jenner Avoiding Nicki Minaj On The 2018 VMAs Carpet Is Awkward
Jamie McCarthy/Paul Zimmerman/Getty Images Entertainment/Getty Images
Y'all are very much aware of the drama going on between Nicki Minaj, Kylie Jenner, and Travis Scott, correct? We'll dive more into the ~situation~ later on, but here's a brief overview: Nicki Minaj slammed Travis and Kylie when her album, Queen, was beat out on the Billboard charts by ASTROWORLD, Travis Scott's album. Minaj brought Kylie and her daughter Stormi into the ordeal, claiming that they manipulated fans into purchasing merchandise bundles that helped to keep his album at the top of the charts. Mhm. We're talking some hardcore beef right here. And you guys, this video of Kylie Jenner avoiding Nicki Minaj on the 2018 VMAs carpet will make you cringe so damn hard.
So here's the scene: Nicki, Travis, and Kylie all attended the VMAs — but according to TMZ, Travis and Kylie reportedly requested to change their seats after realizing they would be sitting directly behind Nicki. Despite the fact that a source told the site that it's "about avoiding bad optics," meaning that Travis shouldn't be sitting behind an artist who's album is second to his, I have a sneaky suspicion that their feud may have also had something to do with it.
While it seemed like the VMAs remained relatively drama-free, a new video shows that there was a moment between Nicki and Kylie before the awards show that was hella awkward. On the red carpet, the two rivals almost ran into each other, and the video is just as uncomfortable as you'd imagine it to be.
Prepare yourselves for a very embarrassing encounter:
In my opinion, it looks like Nicki seems totally unfazed by the run-in, but Kylie, upon realizing that she was about to walk directly past Nicki, decides to pause and re-route to avoid the interaction.
In another video uploaded by a user on Twitter, it shows Kylie doing her ~very best~ to play it off like she was simply stopping with fans to take selfies, and not changing her walking path solely because Nicki was straight ahead of her. Eeesh you guys. The tension is palpable.
Nicki has been unapologetic in expressing her anger at both Travis and Kylie, and on Aug. 21, blasted the couple on Queen Radio, her show on Apple Music's Beats 1 station.
"Travis Scott, on Thursday, when he realized the queen was about to have the number one album in America, he and his label decided to have Kylie and baby Stormi put up a tour pass," Minaj said. She continued, saying, "He had her go and post and say, 'Hey, me and Stormi can't wait to see y'all.' How are you selling something that does not have anything to do with your album but it's being counted on Billboard as album sales?"
She also called Travis and "auto-tune man," which was probably the ultimate blow:
Perhaps we should take the time to just be grateful that there were no run-ins at the VMAs, because things could have gotten pretty ugly.
The jury is still out on whether or not these three will quash their beef, but until all of this dies down, let's just hope that they don't find each other in the same room again.