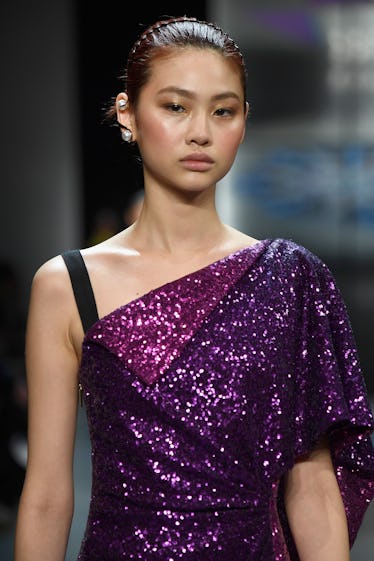 These Hair Accessories Will Be Everywhere This Fall & That's It, You're Finally Wearing One
Frazer Harrison/Getty Images Entertainment/Getty Images
If you're looking for a way to step up your seasonal style game via a touch of unique flair here and there, don't turn to jewelry, shoes, or bags. These fall 2018 hair accessory trends are so good that every single one of them will turn major heads, no accessorizing from the neck down needed. Adding a universally cohesive barrette here or a plain headband there is so much easier then scrounging around for the perfect earrings, necklace, boots, or clutch, and hair accessories tend to be way cheaper than pretty much any other type. Any trend that will actually save me a chunk of change is definitely one I want in on.
While the fall 2018 runways served up a ton of diverse beauty inspiration, the hair accessories were generally inspired by one decade in particular: the '90s. It seemed like every major designer looked back to that decade and the one prior to it for inspiration as to what they could adorn their models' hair with and luckily their reinterpretations of classic '90s hair accessories are even better than the originals. From scrunchies and bobby pins to claw clips and zig-zag headbands, the accessories were as throwback as they get. Check them out below — which one do you think is totally rad?
Claw Clips
The ultimate means of pulling your hair back in the '90s is cool once again. The classic claw clip is experiencing a high-fashion revival, thanks largely to its championing by designers like Alexander Wang. As pictured above, Wang styled two clips together for a super toothy look.
Bobby Pins
Bella Hadid is a huge fan of the bobby pin trend, but it was her sister, Gigi, who rocked the look on Bottega Veneta's fall runway. Slide a few plain ones in on either side of your part for a sleek and minimalistic look, or opt for pins featuring a cool color or pendant for a more statement aesthetic. Function meets fashion with these little guys,
Zig-Zag Headbands
I've got tons of short flyaway hairs around my face, so this '90s trend is one I'm welcoming back gladly into my beauty accessories collection. The stretchy comb headband is back thanks to designers including Prabal Gurung, so whether you need a slicked back nighttime look or simply want to keep your stray hairs out of your face during a run you should consider grabbing one.
Scrunchies
Maybe you still wear scrunchies when you sleep since they won't rip your hair out, or maybe you've totally forgotten about the trend since its last lingering glory days in the late 90s and early 2000s. Either way, it's time to bring them back for daytime and beyond. Whether you go for a gold glittery version like those Ashish sent down their fall runway or you opt for something more plain and subtle, your scrunchie will bring you all kinds of ace throwback hair vibes.
All-Crystal Everything
Pins, barrettes, clips, you name it — seemingly every type of hair accessory got the glitzed out crystal treatment for fall thanks to designers including Ashley Williams, Dolce & Gabbana, and Zadig & Voltaire. This trend is perfect for parties and New Year's eve — shine on.