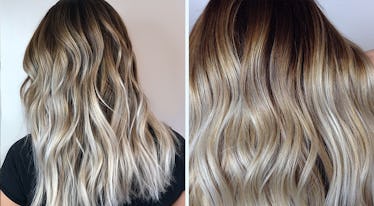 Toasted Coconut Hair Is The Latest Delectable Hair Color Trend To Transition Your Strands Into Fall
Every four months, I go through the arduous task of figuring out exactly what inspo pic I want to bring my hairstylist for my next balayage appointment. (I know, #FirstWorldProblems.) I used to scroll through dozens of Pinterest results for "bronde balayage" before finding the right shade to suit me. It wasn't until I developed the strategy of choosing my hair color based off foods that I found some real winners. My truest love was chocolate chip cookie hair, followed by cold brew hair, and now, I've finally come across a new favorite: toasted coconut hair.
I'm sure you're curious as to what this shade looks like. If you've never had the delight of indulging in a toasted coconut-topped dessert, know that my heart goes out to you. Unlike standard coconut flakes, which are white, toasted coconut is exactly that — toasty — and so the original white flake burns to a slightly warmer, golden brown. Who knew these little guys would be the ultimate inspiration for cool-and-warm-toned hair trends? Girl Scouts, that's who knew.
Just take a look at this Samoa cookie, topped with caramel and toasted coconut, out here living my honest-to-goodness wildest hair color dreams in dessert form:
I know, can you even stand it? This is exactly the color palette my autumn-bound locks have been looking for! And as reported by Allure, toasted coconut hair is about to be huge for brondes everywhere.
So, what, exactly, does this shade look like on the hair? A little something like this:
Delicious, right?! The key to a toasted coconut blend is the perfect balance of dark roots fading to both cool- and warm-toned blonde ends, not just one or the other. The look is meant to add definition to the hair, while still transitioning from brown to blonde via a seamless melt. The cool-toned strands mimic coconut flakes, while the warm tones pull in the "toasted" look. Then, the dark roots add in bonus depth.
It's not too warm. It's not too cool. It's juuuuuust right.
If you're unsure of exactly how to transition your summer balayage into fall vibes, Michelle Gonzalez, a hairstylist at Mimi's Salon in Belmar, New Jersey, says toasted coconut hair is a great option.
"Girls sit in my chair at the end of the summer and are conflicted if they want to be cool or warm toned, and this technique gives you both," says Gonzalez. "The warm brown at the root melts perfectly into the cool blonde on the ends."
If you're a bottle blonde like me, you might be used to rule-followers insisting you go dark for the colder months, but personally, I consider this rule optional. "A toasted coconut color is a good transition from summer to fall — instead of completely darkening your hair for the colder, weather you can start by darkening just your root and dragging it down into your blonde to keep a seamless, dimensional, and high-contrast blend," says Gonzalez.
The stylist continues that you really do "get the best of both worlds" with darker roots and lighter ends: "It's a good [alternative] for people that aren't ready to completely give up their blonde summer look but also want to go darker for fall." This is definitely me, so sign me up!
Gonzalez notes that although toasted coconut hair involves dark roots, it's a style more easily attainable for those of us who are already blonde or bronde, unless you've got time to spare for a multiple appointments. "It's not an easy look to achieve on already dark hair, just because getting to that super blonde hair on the ends takes time and patience. It would be easier to achieve on already blonde hair; that's why it's a good transition look from summer to fall."
Typically, warmer, sunny blondes fear ashier strands won't look as radiant, while cool-toned, ashy blondes consider warm hair far too yellow. Toasted coconut strands combine the best of both shades, and the contrast is both visually appealing as well as fairly customizable. Clients can decide whether they'd like their hair to have more cool or warm tones, and the darkness and length of the brown roots can really help shape the look and classify the overall color as more blonde or more brunette.
For once in my pre-hair-appointment life, I finally know what shade I'll be bringing to my next balayage sesh as inspo. Look out, Samoa cookie, because your girl is about to be serving toasted coconut looks!