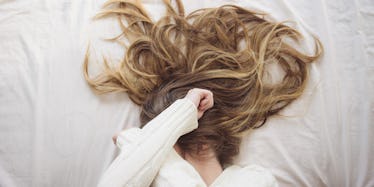 How To Trick Your Hair Into Believing It's Summer All Year Round
B & J
One of my favorite things about summer ending is the beginning of good hair weather.
Without the added humidity in the air, my unruly hair cooperates and is much easier to tame.
But now that we're finally done with beach hair and top knots, it's time to give our locks a little extra TLC as the cooler months approach.
When you go from manufactured heat indoors to cold air outside, you'll discover your hair requires a little extra moisture to combat the dry winter months.
Here are five things you should be doing to get healthy winter hair:
1. Apply a deep conditioner once a week.
Adding this quick extra step to your beauty routine in the winter will deposit the extra moisture into your hair during the season it needs it most.
Ask your stylist what their favorite deep conditioner is and pick a day to apply it each week.
After washing your hair, squeeze out the excess water before putting the treatment on. Leave it on for five to 10 minutes before rinsing.
2. Keep hair washing to a minimum.
The less heat you use on your hair, the better.
This obviously applies year-round, but especially in the winter!
The good news is hats are a perfect way to go an extra day without washing, and winter is the perfect time to invest in a few cute new hats.
I basically always wear a hat on Sunday and Monday before I wash my hair on Tuesday. Dry shampoo will also help to get an extra day out of your hair.
3. Use a hair oil daily.
Two pumps of a quality hair oil each day will instantly transform the look and feel of your hair.
It will immediately look more polished and feel softer when applied to dry hair.
If you have a finer texture and fear oil will make it too limp, try just one pump and only apply it on your ends. There are different oils for different hair types, so be sure and ask your stylist for their recommendation.
4. Darken your root.
The subtle dark root trend isn't going anywhere anytime soon, so if you've been thinking of giving it a try, now is the time.
Not only is it a normal occurrence to darken your color a little in the fall and winter, but when you quit getting highlights, you're saving your hair from unnecessary damage.
I switched to a soft ombre look a couple years ago, and it's resulted in fewer salon visits, along with much healthier hair.
All I do is a base color every two months, and maybe twice a year, my stylist will pop a few foils in. It's the best way to stay on trend, take care of your hair and save time and money.
I'm not sure what I'll do if this trend ever ends...
5. Stay hydrated.
This is such a basic rule, but it really does make a big difference.
If I had a choice, I would drink coffee all day, every day, but that wouldn't be good for my hair, skin or my organs.
I've become a firm believer in drinking half my body weight in ounces of water per day because drinking water helps flush toxins out of your body.
I've become a firm believer in drinking half my body weight in ounces of water per day.
It's easy to forget to stay hydrated when it's cold outside because, let's be serious, hot cocoa and lattes sound so much more delicious.
(Actually, I'll take a spiked cider any day of the week in the winter months, followed by a glass of water, of course.)
You're officially on track to having the healthiest winter hair you've ever experienced.
Don't get shy when people start complimenting your luscious locks. I never do.
Just smile, flip that hair and silently thank me.