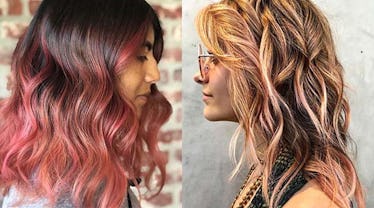 This Peachy Hair Color Trend Is So Juicy, You'll Love It Even More Than The Peach Emoji
pentagonheartdoeshair on Instagram/riawna on Intstagram
Though the weather may insist otherwise, spring has sprung, my friends. Naturally, the change in seasons might have you itching to change up your hair color as well. If you're looking for that perfect springtime pastel hue, then these photos of peach hair color are certain to get your mouth watering. From subtle sun-bleached hues to vivid brights laced with orange, you're sure to find a perfect new hair color tastier than a Fruit By The Foot.
Who knew 2018 would be the year of the endlessly fanciful dye jobs? From rose-brown hair to pink lemonade hair, to the wonderfully warm hygge hair that I'm still sporting myself, there's been no shortage of hair-spiration for those needing a new 'do. If you're feeling bored with your same old shade, there are dozens of viral trends to dabble in.
However, peach hair is one of the first and only hair color trends of 2018 to be rocked by one of our favorite celebs. Paris Jackson just traded in her tried-and-true heavily highlighted hair for a new peachy color. With the help of hairstylist Riawna Capri, the star was magically transformed into Princess Peach with the help of a little hair dye.
According to Capri's Instagram, the color has Jackson "looking like a Bali sunrise." The varying depth of peachy hues give her hair multi-faced depth. Just look at that texture!
Of course, Jackson herself couldn't help but post some snaps of her new pastel color to Instagram as well. She aptly titled her pictures "feelin peachy." I would have included a sensible peach emoji for emphasis, but ya know, to each her own.
Now the peach hair trend is going viral, with hairstylists and colorists all over the world posting delicious peachy looks.
Stylist Bettina Frydenlund for Escape Hairdressing created this cotton candy peach confection tinged with saturated pink tips. Her inspo was a tropical sunset. TBH this color does makes me want to run on the pink sandy beaches of the Bahamas right now. BRB.
Hair colorist Anthony Vincent of the Kut Haus Claremont used Joico Color Intensity Peach Dye to achieve this electric hue. Turn up the saturation on your pastel peach dye and you're sure to turn heads.
If you're looking for something more subtle, then this peach-kissed highlighted hair by colorist Jamee May of the Alberto and Co. salon might light your fire. The peachy balayage is totally appropriate for any occasion.
Brenda Lorena B of Mane Fixation salon mixed rose gold and peach hues for this juicy look.
The color seriously looks different from every angle. It's a peachy prism.
Stylist Melissa Bruce of the Barnet Fair salon applied these dreamy pinky peach shades to her client's hair. She left the root a few shades darker to create some dramatic depth.
Of course, the dye brand Wella Professionals, one of the leaders in color, knows what's up. If you opt for a style like this, florals for spring will certainly be ground breaking.
Hair colorist Stephanie Brown of the Nunzio Saviano salon (whom I personally swear by) created this custom color for her client. The shine is strong with this one.
If you want to DIY your own peach vibes at home, Brown recommends a few key products. According to Brown, "Overtone Pastel Red Daily Conditioner ($17; overtone.co) and Pastel Orange Daily Conditioner ($17; overtone.co) make a very pretty peach if your hair is platinum. Pastel Pink Daily Conditioner ($17; overtone.co) and Pastel Orange [work] if your hair has more warmth in it all ready. If your hair is darker or you want it more vibrant, use the vibrant [versions of the Overtone conditioners]."
Brown also recommends Pravana Chromasilk Pastels in Too Cute Coral ($9; amazon.com) for very pale hair. "Add a touch of neon yellow to make [it] a little brighter," she expertly adds. Manic Panic Semi Permanent Cream Hair Color in Cotton Candy Pink ($10; sallybeauty.com) with a small touch of Manic Panic Electric Banana ($10; amazon.com) also makes the perfect peach hue.
If you want softer pastel vibes and are afraid of accidentally going overboard, "you can dilute [the dyes] with conditioner so they aren't so crazy vibrant," Brown says.
So if you find yourself using the peach emoji in every other text, why not opt for a hair color to match? With a little bleach and well-mixed dye, this look is easily achievable for anyone. Simply choose your peachy hue, apply the dye, and slay all spring and summer long. James (with his giant peach) would be proud.