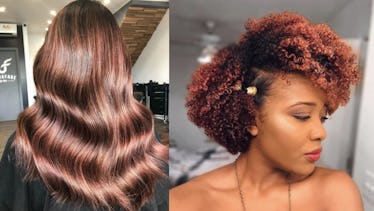 The Rose-Brown Hair Trend Is Taking Over Social Media & It's One For The Brunettes (Finally!)
Every time spring rolls around, I get a major itch to give my hair a fresh new look. Cold winter weather and a lack of sun always render my strands dull and dry, so new highlights and significant snips are always more than welcome. This season, photos of rose-brown hair color are taking over social media. The hue seems to be the trend to try, thanks to its ultra sheeny finish and hints of dusty rosy hues. Although I'm a blonde and therefore can't give this exact color a whirl, I'm definitely going to encourage my brunette friends to take the plunge. It's just that good.
The color, which Australian stylist Thi Thao Tu pioneered, almost looks like chocolate ice cream with berries melting in it; deep, rich, warm. As Refinery 29 writes, "A touch of rose-brown balayage can elevate your natural color to a more multidimensional finish, with the undertones acting like your favorite highlighter by adding a warm pink glow to darker hair." The bayalage works best on brown hair that's not too, too dark because the darker the base color, the less the rosiness will show. If your hair is jet-black, fear not. London-based colorist Josh Wood has given his dark-haired clients the rose-brown treatment via a perfected technique.
"What I do often on very dark bases is add a little balayage to the ends of the hair to make them look weathered, then add the rose or smoky tone over the top, so you see more of it," Wood told Refinery 29. "These colors work really well on browns that tend to go orange or red, as the cool rose tone helps to neutralize any unwanted undertones."
Because your ends are lifted a few levels lighter during the dying process, it is imperative to stick to a strict aftercare regiment in order to preserve the color and ensure your ends don't split. "These tones don't last forever, because they're just laying on the surface of the hair shaft, so caring for them is a must," Wood told Refinery 29. His recommendations? A color-safe hydrating mask to seal in color, which should be used once a week; and shampoo and conditioner specifically created for preserving brunette shades.
I think this color is absolutely perfect for spring because it brings in floral tones while still looking somewhat natural. I've had hot pink balayage and cotton candy pink hair in the past and while those colors are cool, they are VERY in-your-face. Matching your clothing to such colors can be difficult, and the upkeep is insane. With the rose-brown color, it doesn't immediately scream "pink!" — it's more of an afterthought. Therefore, it goes with any outfit and looks great against all skin undertones. Rose-brown would be perfect to debut at Coachella, as it's warm, glossy appearance would mimic the desert scape the festival takes place in. A sherbet sunset hitting the rosy hues would look all kinds of rad.
Check out some photos of variations of the color below and see which one speaks to you the most:
These photos have me dying for a dusty pink tint in my own hair. And thanks to the fact that there seems to be a new hair color trend every second — from mini rainbow prisms to opal to pink lemonade — I'm sure I'll be able to find what I'm looking for. The amount of hair color options that exists these days is absolutely incredible and gives individuals the ability to truly be themselves with their look. Why not get into the garden state of mind with a touch of rose in your own locks?