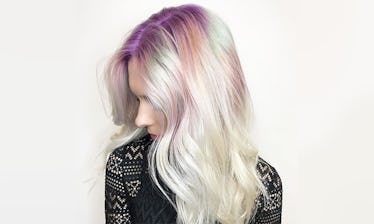 The Rainbow Roots Hair Trend Is Inspired By Crystals, So It Basically Gives You Superpowers
chitabeseau on Instagram
Crystals have influenced every part of the beauty industry thus far. If you're not soaking up their magic powers through your skincare products, you're certainly covering your cheekbones in crystal-infused highlighters. And now, hairstylists are using them as inspiration for the newest rainbow roots hair trend. While gem roots don't technically offer healing powers or special energies, you can't deny they'll make you feel good.
I don't do much to my hair — I might still have some leftover streaks on the very bottom of my ends from that one time I got highlights — OK, I never do anything to my hair. However, I can appreciate a really creative dye job. Though I'm not in the market for a complete transformation at this time, I've had my eye on the rainbow-colored hairstyles on Instagram for a while now. If I ever do work up the courage to completely change my hair color, gem roots would be what I'd go for. Though for me (a super dark-haired brunette), that would require some serious bleaching and hours of intensive and meticulous root painting, but it looks ah-mazing!
As the name suggests, gem roots are inspired by gemstones. The result is this dark-to-light effect that fades from amethyst purple to a pretty shade of aquamarine and finally a light pink opal color. Created by Las Vegas-based hairstylist Chita Beseau (who is clearly a pro at rainbow hair looks), gem roots combines the Insta-popular rainbow roots trend with every beauty junkie's obsession with crystals. I smell a spring hair trend on the rise.
You can find hundreds (if not thousands) of girls on Instagram with their hair painted in every color of the rainbow, all at once. Rainbow hair colors typically focus on the ends or include an array of technicolored ribbons dispersed throughout an entire head of hair. But not gem roots. Gem roots are basically an inverted version of the usual go-to dye job and it's glorious. How did nobody think of this earlier?
Perfect for girls who have platinum hair or are naturally light blondes (and of course, brunettes who actually do have the courage to go light), gem roots are the colorful reverse ombre you need to try this spring. However, if you're thinking of trying this look for yourself in your own bathroom, it's better to seek help from a professional.
In an interview with Chita Beseau, the hairstylist says she painted on different amounts of each shade for every section of her client's hair. While this might seem unnecessarily painstaking it's actually strategic so that no matter how her client parts her hair, you'll be able to see every one of the other pastel hues woven between. She also adds that the entire process took about two hours. I would've guessed it took much longer. I still couldn't work up the courage to bleach and rainbow my hair, but if I ever decided to commit, the surprisingly quick process would be one of the deciding factors for me.
As I mentioned before, I once got highlights and let them grow out so far that they eventually became a natural-looking ombré and are now a few frosted tips blended in with my dark hair color. Imagine how cool these rainbow roots would look in their growing-out stage? Prismatic.
How convinced are you that you need gem roots? If not for the relatively quick process, than for the feel-good powers. Call your stylist and take these photos to your next hair appointment for what I'm guessing will be the biggest rainbow hair color trend for spring. Get out there, girl and color those roots.