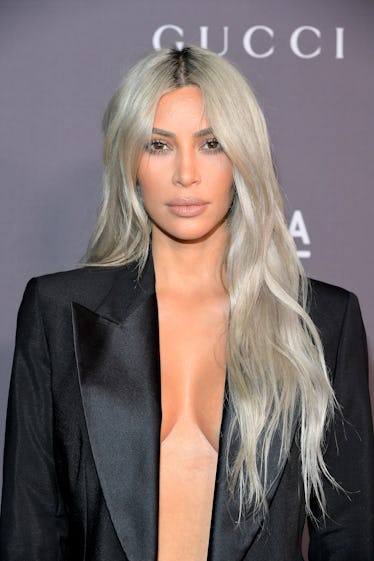 Kim Kardashian Ranted About The Process Of Going Blonde & It Sounds Awful
Charley Gallay/Getty Images Entertainment/Getty Images
Platinum has quickly become the hair color of the season. From Selena Gomez to Emilia Clarke, a slew of trendsetting women have gone for the bleach. But a recent flurry of tweets from have us wondering: Is Kim Kardashian going brunette again? The reality television mogul might just be turning the beauty trend on its head by returning to her dark roots.
If you've followed her beauty transformation over the years, then you know that Kardashian is no stranger to blonde hair. She first tried out the icy blonde hue in 2015 for New York Fashion Week, and has brought it back in various other iterations since then. While I'm of the opinion that she could pull off literally any haircut or color, I must admit that I LOVE her as a blonde.
Her most recent foray into the lighter color happened just three months ago, when she debuted a gorgeous silvery hair, again for New York Fashion Week. Just last week, she gave her hairstyle another update by chopping it into a super blunt bob. While the blonde remained intact through that latest hair transformation, it looks like that might not be the case for long.
Yesterday, Kardashian posted a tweet expressing her annoyance at how long the process of tending to her dark roots was taking, which, same. If you've ever gone blonde, then I'm sure you can relate to the pain, both literal and metaphorical, that comes with bleaching your head. (Why do we do these things to ourselves!? Ah, because beauty is pain…)
I'm a natural blonde and was born with curly hair the color of sunbeams. But as I've gotten older, my hair has darkened to a slightly murkier color, which I've learned to combat through expertly painted bayalage. (I highly recommend bayalage over highlights, as it allows for roots to grow in with a more natural appearance.) But before I discovered the game-changing technique, I decided to try out near-white platinum and let me tell you, it put my hair (and patience!) through hell and back.
As Kardashian mentioned in her Tweet, going super silvery is a long and drawn-out process. For me, getting my entire head to my desired color took about four or five hours (I've blocked out the memory), and I even started with a decently light color. I can't even imagine what the process must be like for someone with super dark hair.
The bleach burned my nostrils and scalp; the toner turned my hair a slightly bluish color, which took another 30 minutes to rectify; and I was pretty sure that half of my strands had fallen out by the time I left the salon. Don't get me wrong, it looked pretty cool in the end (I think I was one shade away from my grandmas' silvery white shade) and I thoroughly enjoyed it while it lasted. But that's the thing — it didn't last.
Within a matter of weeks my roots had started to grow in, and I realized the immense amount of uptake the color would take. Within a few months, I was back to a more natural blonde.
So Kimmy, if you need to return to your roots and go brunette again, I understand.
Twitter, however, is divided. After Kardashian posted her tweet lamenting the process of going blonde, a flurry of responses began to roll in, some begging her to keep her lighter locks, and some encouraging her to go back to brown. We'll be keeping an eye out on Kardashian's social media accounts to see whether or not she takes their pleas to heart.
People are clearly obsessed with Kardashian's hair, but can you blame them? Based on my own personal knowledge of going blonde, I'll bet we see a dark-haired KiKi by 2018.