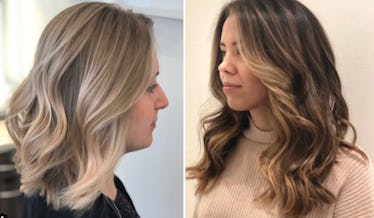 Photos Of Hygge Hair Are Like A Cuddle For Your Eyes, So Get Ready To Feel Cozy AF
If you're of the opinion that hair color trends are only getting more and more ridiculous, I am right there with you. But still, I love reading about them and more often than not, I actually think they're pretty rad. The latest crazy hue is no different. When I first read about it I genuinely wondered, what is hygge hair, though? After some very serious scientific research (aka Twitter trolling), I've come to understand that it's less one specific shade, and more of an overall concept or effect. Much like hygge itself, it's the nature of something that can't quite be defined by words.
Thankfully for me, the Oxford English Dictionary has a legitimate definition for "hygge," so you don't have to suffer through my undoubtedly failed attempt to explain it. They define the Scandinavian word as a "quality of cosiness and comfortable conviviality that engenders a feeling of contentment or well-being (regarded as a defining characteristic of Danish culture)."
One of my memorable hygge moments would be sitting inside of a log cabin nestled in the Colorado mountains with flames crackling in the fireplace as snow was falling outside. I was drinking a hot toddy, wearing Ugg boots (don't even tell me they're not cool because they are), and sitting with all of my best friends. Cozy, comfortable, fuzzy, content, happy.
Taking this all into account, it makes sense, then, that hygge hair is characterized by warm, inviting hues. According to Refinery29, "soft coppers, rich browns, buttery blondes, and creamy oranges" are such colors. Unlike many other hair trends (ie metallic and mulled wine), hygge hair isn't relegated to one application technique or shade. In fact, some of my personal favorite hygge hairstyles involve multiple shades. Auburn and chocolate brown, golden and toffee blonde, and auburn and deep cherry are all excellent color pairings, in my book. It's also a trend that literally anyone can rock with absolute ease, meaning no beauty girl is left behind. Hygge for president.
One technique that lends itself well to an array of warm color combos is ombre, which became oh so popular in 2013. (That was during my senior year at NYU and I think every single one of the coolest girls on campus was rocking it.) Rich brown roots gradually fade into a caramel blonde, giving hair an effect that looks as if the sun has bleached it over time. It's warm, adds texture to all hair types, and is a cool, edgy way to incorporate some lighter hues.
Another technique that lends itself well to hygge hair is balayage. Think of it as the more low-key sister trend to ombre. Highlights are literally painted into hair by a stylist layer by layer, which gives them a more natural and less uniform effect. I myself have balayage blonde highlights and absolutely love them. They're low maintenance and look amazing when painted in to frame the face.
Hygge hair isn't reserved to multicolor dye jobs, though. If single process color is your thing, you can opt for any rich color and still achieve a warm and inviting look. Basically, if you stay away from icy blondes and inky blacks, your hair color will qualify as hygge.
Considering autumn and winter are the perfect seasons to embrace a newer, more fiery hair color (unless you prefer to look like an ice queen, which I think is totally rad, too), there's no better time than the present to get your hygge on. Head to the salon in a cashmere sweater, lambswool boots (again, Uggs are the optimal choice), and a hot drink in hand, for an especially cozy effect once your dye job is done.