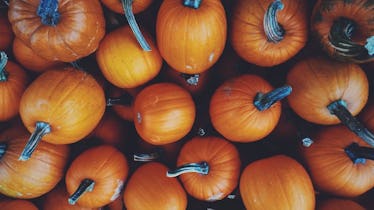 Pumpkin Spice Ombre Hair Is Here, Just In Time For All Your Fall PSL Selfies
Labor Day weekend is here, but excitement for fall 2017 is coming in hot. For example, the internet is already ablaze with the most recognizable sign of the season: pumpkin spice latte fever. No matter who you are, no matter what you do, you simply can't escape mentions of the warm, sweet liquid. And because PSL are the three little letters on everyone's lips, it's absolutely normal to feel jealous of the caffeinated beverage. No judgment here — in fact, it's the complete opposite. Tap into (and harness) all that PSL power with pumpkin spice ombre hair.
You read that correctly: your hair has every right to feel as on-trend, popular, and gorgeous as a deliciously good PSL, and I know I'm not alone in thinking so. Hair brand Clairol has developed two ways of snagging a magical pumpkin hair color, depending on how long you want to keep the hue (Starbucks typically ceases selling PSL in December, so something to consider). If you're merely flirting with the idea of pumpkin spice ombre strands, you'll want to try the Color Crave Hair Makeup in Shimmering Copper, which is so non-committal that it washes out in one shampoo. See how the temporary color transforms hair into a to-dye-for golden hue below.
Color Crave Hair Makeup in Shimmering Copper, $9, Target 
Totally beautiful, and that's just two accent strands!  The best part is the formula, which is spiked with micro-crystals that provide that glimmery, multi-dimensional finish, works on all hair colors. With that said, it won't affect every hair color the exact same way, and blondes may receive a more subdued effect. If that's not enough for you or you desire a longer relationship with fall's trendiest hair color, Clairol's recipe for semi-permanent pumpkin spice ombre will be your spirit guide.
NYC-based hair colorist Caterina Alfieri developed the autumnal hue, which the brand says will last 15+ washes. Here's how to do it yourself, at home:
First, comb out hair and section down the middle.
Use Clairol Color Crave Semi-Permanent Hair Color in Apricot starting a half inch off the root down to the middle of the hair shaft. Take thin sections, making sure all the hair is saturated with color.
Then, swipe strands with Clairol Color Crave Semi-Permanent Hair Color in Rose Gold from the mid shaft down to the ends. The Apricot and Rose Gold will mesh together at the mid-section where they meet, creating a seamless gradient of color from one color to the next.
Wait 30 minutes, then rinse and condition.
There you have it folks, two ways to DIY your own PSL hair. If you're somehow still yearning for more of that PSL popularity, consider wearing PSL deodorant or munching on PSL pretzel nuggets, which will both bestow you in gourd-like glory.