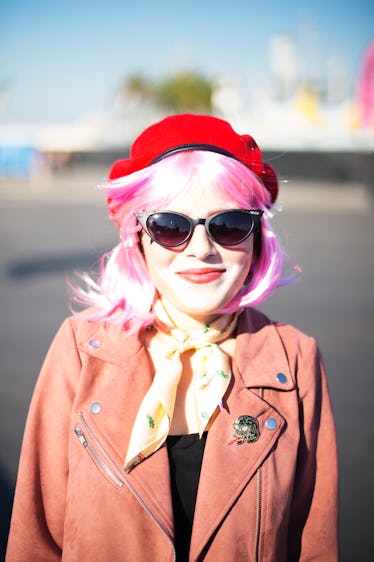 What Color To Dye Your Hair In 2018 Based On Your Zodiac Sign
Matt Cowan/Getty Images Entertainment/Getty Images
The first day of 2018 is near, so you know what that means: it's time to dramatically change your appearance for funzies. TBH, I'm already planning to bleach my black hair blonde in January, so I'm one to talk. If you're not sure what color to dye your hair in 2018, then you've stumbled across the right article. Why not dye your hair based on your zodiac sign?
Now your dark, dramatic Scorpio insides can finally match how you look on the outside. My Virgo friends can finally give into their seemingly innocent natures that they desperately try to fight so much by opting for some champagne highlights. Luckily, there's a new hair color trend for every sign to try in 2018. As long as you've got a good stylist and some dye, the only limit is your stubbornness to change (I'm looking at you, Taurus).
If you're feeling the urge to transform your hair lewk in the new year, then find a stylist you trust (don't do this at home kids), and update your 'do to match your new and improved 2018 attitude. We've gotta leave the dumpster fire that is 2017 in the dust, so that means transforming the way you see yourself, like a phoenix rising from the ashes of said dumpster fire. In order to discern your most popping hue, just look up as you soar to the stars.
Capricorn
Capricorns are very classic and very low maintenance, so a champagne balayage will fit perfectly into your lifestyle in 2018. With the root tone so effortlessly incorporated, you won't have to run back to the salon the second your hair starts to grow out.
Aquarius
Icy Aquarius, there's no one better to act as the guinea pig... er... model for the color that's slated to be the biggest hair trend in 2018: metallic silver. The more dimension you can incorporate into your hair, the better!
Pisces
We've embraced colorful hues in the past, but now it's time to hone in on bubblegum pink hair. This soft and subtle hue is something straight out of a Pisces fever dream.
Aries
Fiery orange hair is going to be huge in 2018. So if you're an Aries, you might as well dye you hair to be part of the fad. This flaming color was simply made for you.
Taurus
With metallics so huge on the hair horizon, bronze is bound to be big this year. Whether you're currently blonde or brunette, bronze is the perfect middle-of-the-road color that will give you change but not too much.
Gemini
We all knew it was coming. It's time to give into your duality Gemini with a pretty two-toned dye job. You don't have to give straight-up Cruella de Vil vibes. Make the look modern with some saturated jewel tones.
Cancer
Rosé all day, Cancer. This hair dye is best paired with a tall glass of rosé in one hand and a paperback romance novel in the other.
Leo
Leos are known for their hair, so we need to keep it as the crowing glory. Let everyone know you're straight up royalty by dying your hair gold. There's no color more perfect for a Leo.
Virgo
Enhance your innate innocence with the ultimate white-gold balayage. This look will finally bring your inner and outer images into harmony.
Libra
Balance out a dark 'do with some soft, light-brown highlights. This look is so romantic, you'll probably nab a spot as a contestant on The Bachelor.
Scorpio
Have you laid eyes on that mulled wine hue that's sweeping the beauty boards? There's no one more worthy of this vampy tone than a brooding Scorpio.
Sagittarius
Adventurous Sagittarius, you're always down to try something new. Why not bleach your locks to platinum levels of perfection? If Kim K can do it, so can you!